Unique for its strength, lightness of weight and corrosion resistance
Titanium weld neck flanges are best known for being strong, lightweight and corrosion resistant. One property that stands out when compared to other metal weld neck flanges is that titanium weld neck flanges have the highest strength-to-weight ratio with a density of 4.51 g /cm3. As an example, titanium grade 5 is 4 times stronger than 316 stainless steel at nearly half the weight. This makes titanium weld neck flanges ideal for applications that require both lightness of weight and excellent strength such as oil & gas (down-hole), military and sporting goods.
Titanium weld neck flanges are also unique among metals in the chemical processing industry for handling chlorine (wet) and chlorine compounds in aqueous solutions. Titanium weld neck flanges are fully resistant to solutions of chlorides, hypochlorites, chlorates, perchlorates and chlorine dioxide. As a result titanium weld neck flanges are often using within the chlorine related industries such as pulp and paper and chlor-alkali / bleach.
Titanium weld neck flanges are also an excellent material to prevent seawater corrosion. Because titanium weld neck flanges can resists corrosion by seawater up to temperatures as high as 500°F (260°C) as well as survive at ocean depths over a mile below the surface, titanium weld neck flanges are used throughout the oil & gas, desalination and marine industries.
The most common grades of Titanium threaded rods are Grade 2 and Grade 5. Gain more insight on these by accessing our Grade 2 and Grade 5 overviews or by contacting our engineering experts.
Resources: Titanium Torque Specs, Flange Dimensions, Flange Bolting Chart
Flange Types Available: Blind Flanges, Lap Joint Flanges, Slip On Flanges, Socket Weld Flanges, Threaded Flanges, Weld Neck Flanges
---
Titanium Grades, Chemistry & Specifications
Titanium Grade 2 (Commercially Pure)
Unalloyed titanium; Commercially pure titanium is the most common grade of titanium utilized throughout industry due to its ease of availability and good properties.
Titanium Grade 2 Specifications: UNS R50400, ASTM B 348, AMS 4921, ASTM F 67, ISO 5832-2, Werkstoff 3.7035

Titanium Grade 5 (Ti 6Al-4V)
Known as the "workhorse" of the titanium alloys, Ti 6Al-4V, or Grade 5 titanium, is 2x stronger than titanium grade 2. This alloy offers high strength and light weight, useful formability and high corrosion resistance. Ti 6AI-4V finds many uses in the aerospace, medical, marine and chemical processing industries.
Titanium Grade 5 Specifications: ASTM - B265, B348, B381, B861, F467 and F468, AMS - 4911, 4928, 4935, 4965 and 4967, MIL-T - 9046 and - 9047, Werkstoff 3.7165
Titanium Grade 7
Grade 7 is the most corrosion resistant of all titanium alloys and is typically used in chemical processes and production equipment components. Similar to Grade 2, but with the addition of 0.12 to 0.25% palladium, Grade 23 has enhanced corrosion resistance to reducing acids and localized attack in hot halides.
Titanium Grade 7 Specifications: ASTM - B265, B337, B338, B348, B363, B381, B861 and B862, Werkstoff 3.7235
Titanium Grade 23 (TI 6AL-4V ELI)
Titanium grade 23 or TI 6AL-4V ELI is an Extra Low Intersticial grade. This grade is similar to Grade 5, but because of the low intersticials, its mechanical properties are enhanced. This ELI grade is often found in more demanding medical device applications as well as industrial applications.
Titanium Grade 23 Specifications:
ASTM - B265, B348, B363, B381, B861, B862 andF136, AMS - 4907, 4930 and 4956

Other titanium grades are also available upon request.
---
Mechanical Properties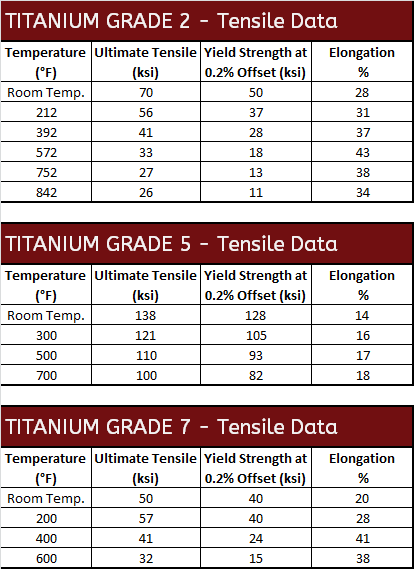 ---
Titanium's Resistance to Chlorine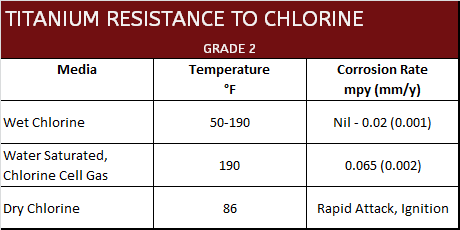 ---
Corrosion Data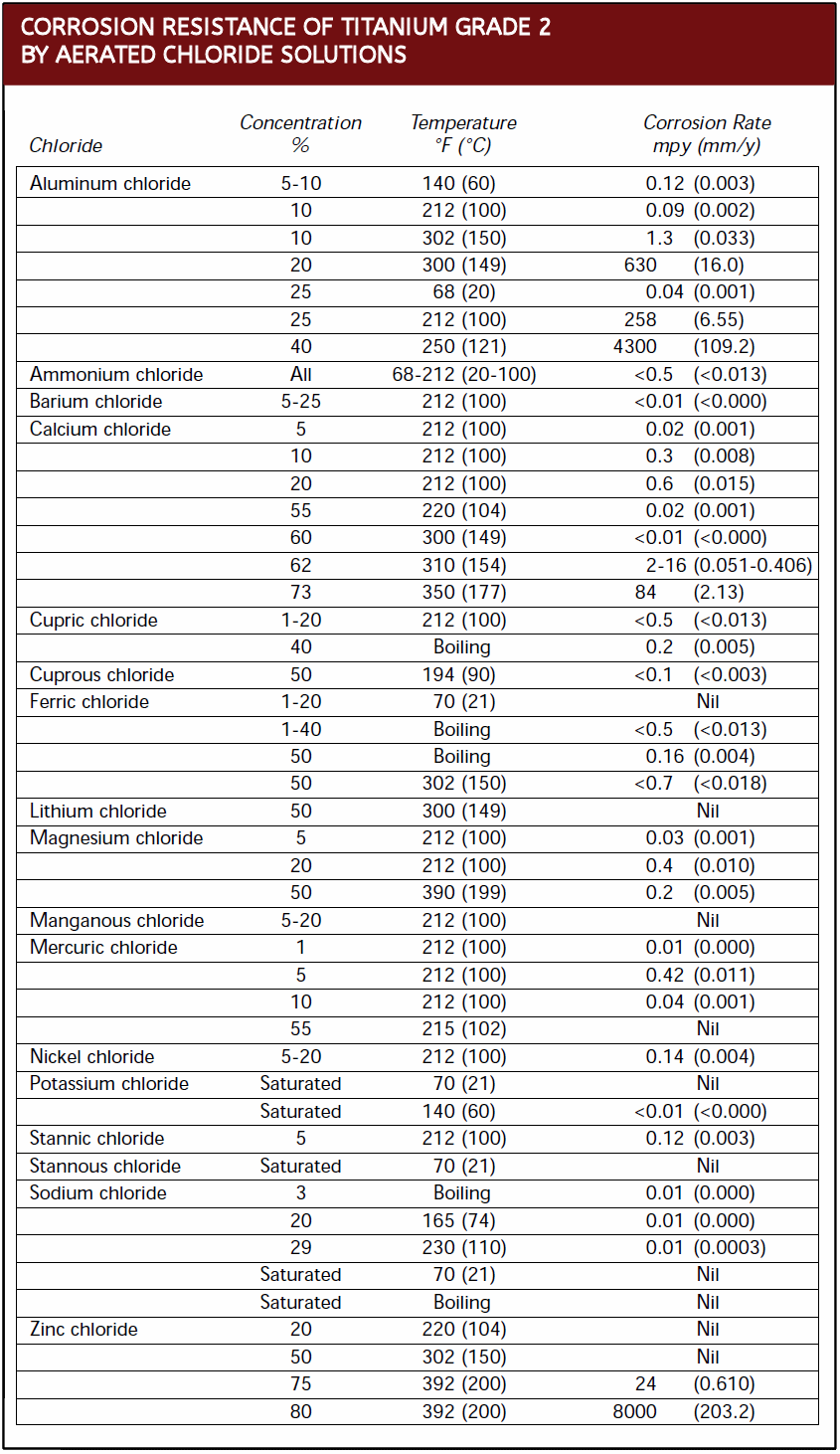 ---
Titanium Grade 5 Temperature vs. Strength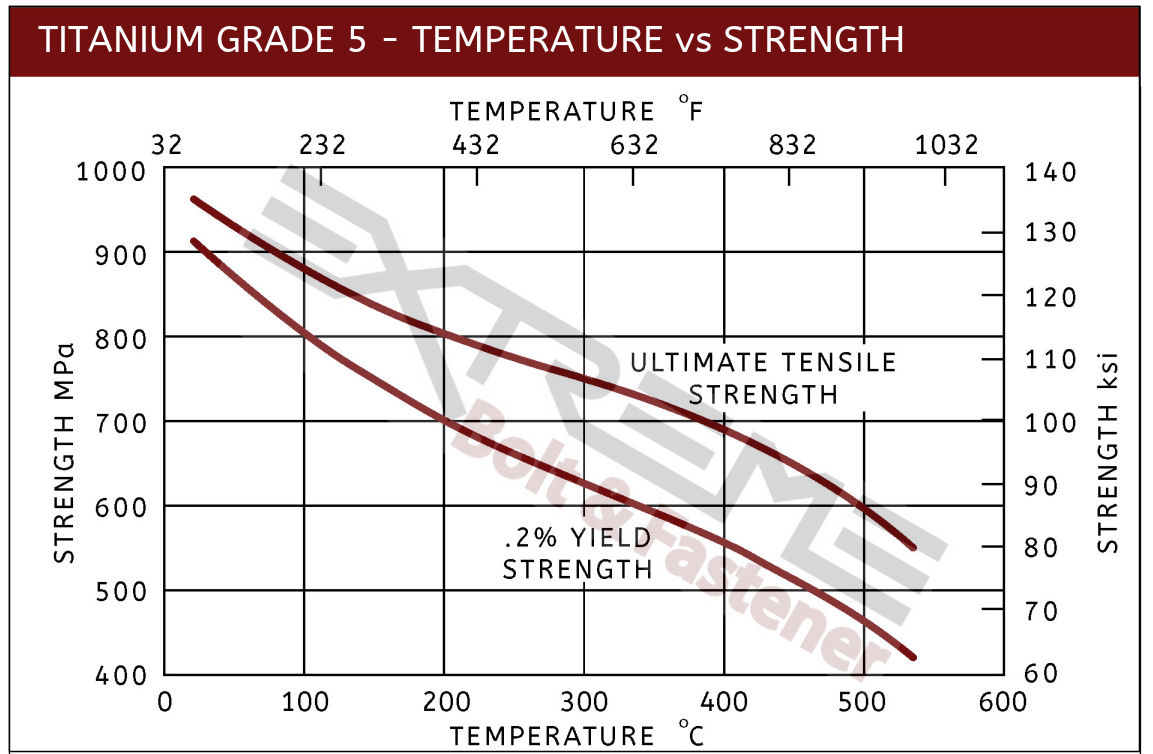 ---
Titanium Weld Neck Flange Features & Benefits

Titanium weld neck flanges are best for hazardous, high pressure applications. Weld neck flanges are easily identified by their long tapered neck. The inside of the flange is bored to match the inside diameter of the pipe in order to ensure there is no restriction in flow and also to prevent turbulence at the joint. The tapered neck provides thicker metal at the flange joint, while the neck narrows down gradually to meet the pipe where it is butt welded to the pipe. This design helps to transfer stress from the flange to the pipe, as well as diminish stress concentration at the base of the flange connection.
Titanium weld neck flanges are ideal for critical applications involving high pressure, sub-zero and elevated temperatures, as well as in conditions where fluctuations cause pipe expansion/contraction.
Key Feature: Ideal for high presure applications.
Weld Neck Flange Advantages
Ability to withstand high pressure – since pipe is welded to the neck of the flange, stress is transferred to the pipe.
The beveled end that, when connected to a pipe, creates a trough for a strong weld.
Most versatile flange in the ASME stable of flanges.
Weld Neck Flange Disadvantages
More advanced welding skill is needed for installation. The inside weld must be smooth to reduce friction and the outside weld must meet code criteria.
Uses
Severe conditions that include high-pressure, high-cyclic and hazardous fluid applications.
Fitting-to-fitting fabrication where the flange is welded directly to a fitting, such as an elbow, without the need for a short piece of pipe, as would be required with a slip-on flange.