A Ni-Cr alloy known for its corrosion resistance and high temperature stability
Inconel® lapped joint flanges, like Inconel 600, 601, 625, 686, 718 & 725 lapped joint flanges, are a family of nickel-chromium-molybdenum alloys used for their high strength at elevated temperatures and good corrosion resistance. Because of its high thermal stability, Inconel lapped joint flanges can be used in service temperatures ranging from cryogenic to 2200°F (982°C). The high alloy content of Inconel lapped joint flanges enable it to withstand a wide variety of severe corrosive environments. In mild environments, such as the atmosphere, sea water, neutral salts, and alkaline media, there is almost no attack to Inconel lapped joint flanges. In more severe corrosive environments the combination of nickel and chromium provides resistance to oxidizing chemicals, whereas the high nickel and molybdenum contents supply resistance to nonoxidizing environments.
Because Inconel lapped joint flanges offer a good balance of corrosion resistance, temperature stability, toughness and strength they are often a material of choice for chemical processing, aerospace, marine, electronics and oil & gas.
The most common grades of Inconel nickel alloy flanges are Inconel 625 and Inconel 718. Gain more insight on these two grades by accessing our Inconel 625 and Inconel 718 overviews or by contacting our engineering experts.
Resources: Inconel Torque Spec, Flange Dimensions, Flange Bolting Chart, Inconel 625, Inconel 718
Flange Types Available: Blind Flanges, Lap Joint Flanges, Slip On Flanges, Socket Weld Flanges, Threaded Flanges, Weld Neck Flanges
---
Common Inconel Flange Grades
Inconel 600
Alloy 600, UNS N06600, is a nickel-chromium alloy with good carburization and oxidation resistance through 2000°F. The alloy has long been used in the heat treating industry and Inconel 600 has useful resistance to dry Cl2 and HCl gases at moderately elevated temperatures.
Inconel 600 Specifications: AMS 5540, AMS 5665, ASME SB 166, ASME SB 167, ASME SB 168, ASTM B 166, ASTM B 167, ASTM B 168, EN 2.4816, UNS N06600, Werkstoff 2.4816

Inconel 601
Inconel 601, UNS N06601, is highly resistant to oxidation through 2200°F even under severe thermal cycling. The alloy has good high temperature strength, and retains its ductility after long service exposure. Inconel 601 alloy has good hot corrosion resistance under oxidizing conditions.
Inconel 601 Specifications: AMS 5715, AMS 5870, ASME SB 167, ASME SB 168, ASTM B 167, ASTM B 168, EN 2.4851, UNS N06601, Werkstoff 2.4851

Inconel 625
Inconel 625, UNS N06625, is the workhorse of the Inconel family and is one of the most common grades. It exhibits high creep-rupture strength and is oxidation resistant to 1800°F (982°C). Inconel 625 has excellent resistance to hot seawater, scrubber environments and reducing acids and this alloy resists a wide range of severely corrosive environments and is especially resistant to pitting and crevice corrosion.
Inconel 625 Specifications: AMS 5666, AMS 5837, ASME SB 443 Gr 1, ASME SB 446 Gr 1, ASTM B 443 Gr 1, ASTM B 446 Gr 1, EN 2.4856, ISO 15156-3, NACE MR0175-3, UNS N06625, Werkstoff 2.4856
Inconel 686
Alloy 686, UNS N06686, is designed for outstanding corrosion resistance in a wide range of severe environments. The alloy is used in the most severe environments encountered in chemical processing, pollution control, pulp and paper production, and treatment of industrial and municipal waste.
Inconel 686 Specifications: ASTM B 462, ASTM B 564 / ASME SB 564, ASTM B 574 / ASME B 574, DIN 17752, DIN 17753, DIN 17754

Inconel 718
Inconel 718, UNS N07718, is the most common grade of the hardenable Inconels. This precipitation-hardened nickel-chromium alloy combines outstanding corrosion resistance and high strength at elevated temperatures. The alloy is a about 2x as strong as Inconel 625 having excellent creep-rupture strength at temperatures to 1300°F (700°C) and usable up to 1800°F (982°C). Inconel 718 is often used in gas turbines, rocket motors, spacecraft, nuclear reactors, pumps, and tooling.
Inconel 718 Specifications: AMS 5596, AMS 5662, AMS 5663, AMS 5832, ASME Case 2222-1, ASME SFA 5.14, ASTM B 637, ASTM B 670, EN 2.4668, GE B50TF14, GE B50TF15, UNS N07718, Werkstoff 2.4668

Inconel 725
Alloy 725, UNS N07725, nickel-chromium-molybdenum-niobium age-hardenable alloy that has essentially the same corrosion resistance as Inconel 625, but with a strength of that is twice that of annealed Inconel 625. The strength of this alloy is developed by heat treatment to achieve high ductility and toughness. The alloy is resistant to hydrogen embrittlement and stress-corrosion cracking as well.
Inconel X750
Alloy X-750, UNS N07750, is a precipitation hardened alloy known for its corrosion resistance and high temperature oxidation resistance up to temperatures of 1300°F. This alloy is similar to Alloy 600 but made precipitation hadenable with the addition of titanium and aluminium.
Inconel X750 Specifications: ASTM B 637/ASME SB 637; ISO 9723-9725; SAE AMS 5667-5671 and 5747; EN 10269

---
Mechanical Data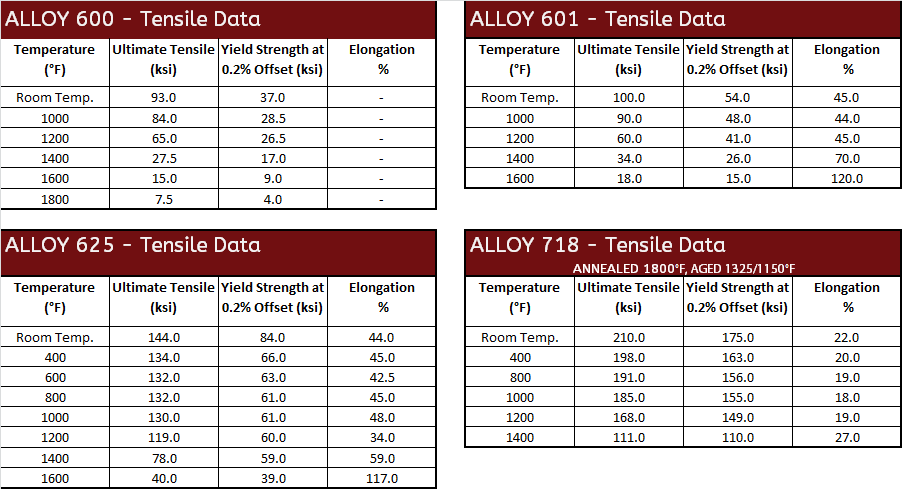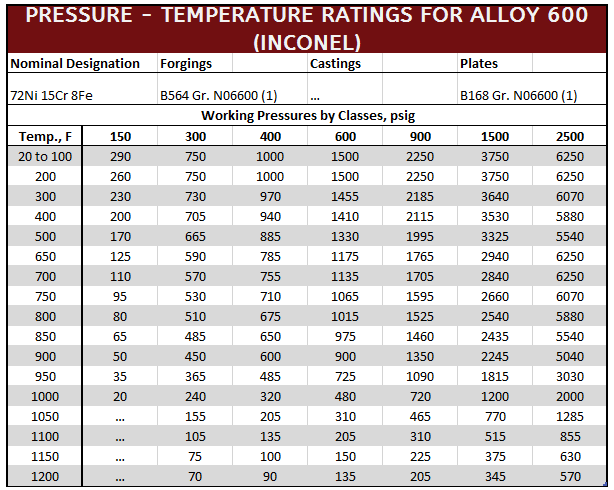 Inconel Corrosion Data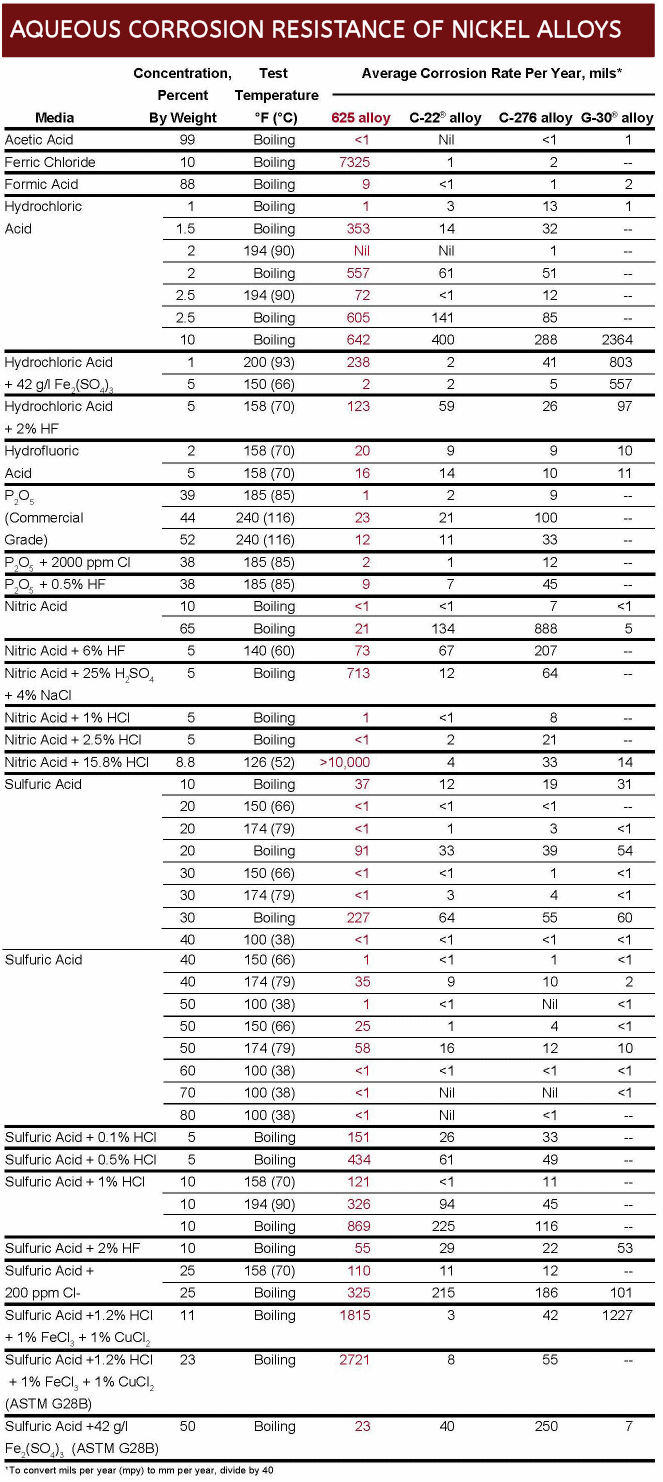 ---
Inconel Lap Joint Flange Features & Benefits
Lap joint flanges are unique in that they are made of two pieces, the flange itself and the stub end.
Flange
The backside, has a slight shoulder that is square cut at the center or pipe hole
The front side has a flat face with a filleted (rounded) center hole to match the filleted back face of the stub end. Here the stub end will wrap tightly around the center hole of the flange.
Stub End
Shaped like a short piece of pipe with a weld bevel on one. This portion of the stub end is also called the sleeve.
Narrow shoulder on the flange facing end called is the hub. The back face of the hub has a rounded transition (or inside fillet) that joins the hub to the sleeve
Benefits
Economy
Because a lap joint flange has a two piece configuration, it offers a way to cut cost when piping systems requires
For high cost alloys the only "wetted" part is the stub end. In this situation, it is only required for the stub-end to be made of the higher cost corrosion-resistant material, where the flange itself can be the produced from lower cost steel.
Ease of Work
By using lap joint flanges, work can be simplified in situations that require frequent and rapid disassemble and assembly during the operation of a plant. The ability to spin that backing flange compensates for misalignment of the bolt holes during assembly.