An extremely strong precipitation hardened stainless steel
17-4 PH set screws are made from a precipitation hardened stainless steel most known for its exceptional strength and its ability to maintain its mechanical properties to 600°F. Compared to 316 stainless steel, 17-4 PH screws yield strength is up over 4 times greater. When compared to Duplex 2205 screws, the yield strength of 17-4 PH can be up to 2-½ times greater.
17-4 set screws are available in 8 different aged (precipitation hardened) conditions offering a variety of mechanical properties (see below).
Resources: 17-4PH Torque Specs
17-4 PH Screw Types: 12 Point Screws, Button Head Cap Screws, Flat Head Screws, Hex Cap Screws, Pan Head Screws, Set Screws, Socket Head Cap Screws, Tamper Resistant Security Screws, Torx Screws, Vented Screws
---
17-4PH Set Screw Features & Benefits
17-4PH set screws are unique in that they have no screw head, meaning that they have no protruding part past the threaded shaft. They are thread only and are available with a socket or slotted driver insert at one end. Set screws are used to secure an object within or against another object. Typically they secure a rotating part such as a gear or shaft. 17-4PH set screws are driven through a threaded hole in the rotating part until it is tight against the inner object, preventing from moving relative to the outer object. Set screws are available with various points depending on the application.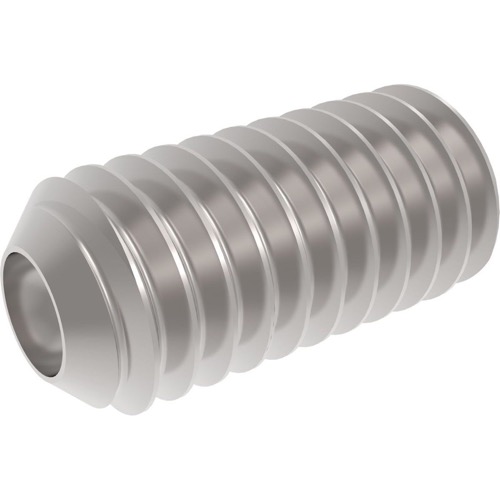 Cup Point
This is the most commonly used set screw and is identified by a cup-shaped indentation on one end. 17-4PH cup points are typically used for a quick, semi-permanent or permanent applications where it is acceptable to cut the cup point edge of the screw.
Cone Point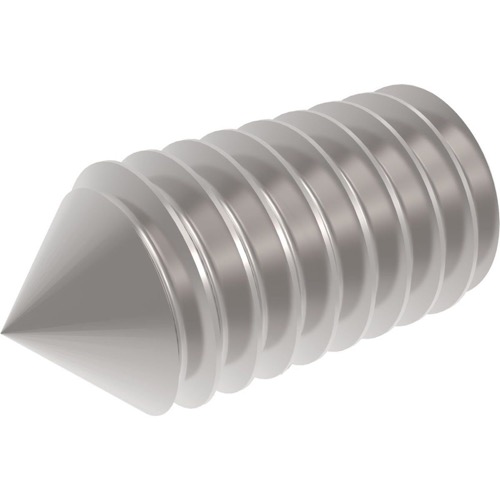 A cone point is easily identifiable by its sharp cone-shaped point – just like an ice cream cone. 17-4PH cone point set screws deliver the strongest clamping force due to the deep penetration of the point. As a result they are used for permanent assembly.
Flat Point
The cheapest and simplest of the set screw point styles, this screw has a flat surface on the bottom of the screw. This type is used when you need the ability to frequently change parts and require minimal shaft deformation.
---
17-4PH Chemistry & Specifications
17-4PH Specifications: UNS S17400, AISI 630, ASTM A564-630, Werkstoff 1.4542, AMS 5604 Sheet, Strip and Plate, ASTM A 693 Plate

ASTM F593, Grade 630
This specification covers seven groups of stainless steel alloys, with ASTM F593, Grade 630 applying 17-4PH. ASTM F593 Grade 630 covers the requirements for 17-4PH stainless steel bolts, hex cap screws, and studs sized 0.25 to 1.50 inches, inclusive, in nominal diameter. It is intended for common use and for service applications requiring general corrosion resistance.
---
Common 17-4 Fastener Conditions: Aged Conditions vs Tensile Strength
ASTM A564 GR 630
This specification covers bars and shapes (such as fasteners) of age hardened stainless steels such as 17-4PH. It includes hot-finished or cold-finished fasteners that are produced by hot rolling, extruding, or forging. Grade 630 shall be furnished in the solution-annealed or or age-hardened condition.