A Ni-Cu alloy with high strength and good corrosion resistance
Monel weld studs are available in a variety of fastener styles for manual (MIG, TIG) arc and capacitor discharge welding methods. Available in Monel 400, these weld studs provide a secure, cross-sectional weld in single-sided access situations in a wide variety of extreme environments that require high strength, toughness and good corrosion resistance over a wide temperature range.
An outstanding characteristic of Monel weld studs is that they offer exceptional resistance to hydrofluoric acid, a particularly tough acid to deal with, in all concentrations up to the boiling point. For hydrofluoric acid applications, Monel weld studs are perhaps the most resistant of all commonly used specialty alloys. In addition, Monel 400 weld studs exhibit excellent corrosion resistance in marine applications and have reasonable corrosion resistance to sulfuric and hydrochloric acids under reducing conditions. Because of these characteristics, Monel weld studs are often found in marine and chemical processing applications.
The most common grades of Monel fasteners are Monel 400 and Monel K500 . Gain more insight on these two grades by accessing our Monel 400 and K500 overviews or by contacting our engineering experts.
Resources: Monel Torque Spec, Flange Dimensions, Flange Bolting Chart, Monel 400, Monel K500
Screw Types: 12 Point Screws, Button Head Cap Screws, Flat Head Screws, Hex Cap Screws, Pan Head Screws, Set Screws, Socket Head Cap Screws, Torx Screws
---
Monel Weld Stud Features & Benefits
Monel weld studs are an ideal way to securely attached fasteners in extreme applications where reaching both sides of a structure is impossible or undesired. These weld studs can be attached by a variety of welding techniques, such as MIG or TIG welding or they can be attached by automated welding guns using Arc or Capacitor Discharge (CD) technologies.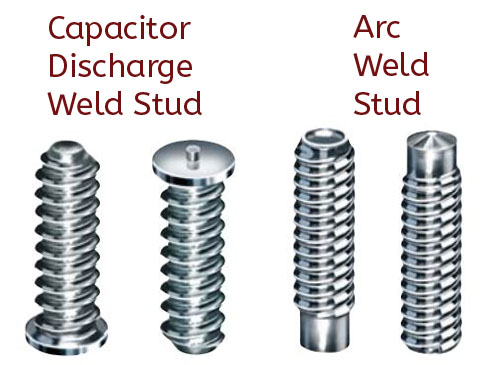 Arc and Capacitive Discharge (CD) Weld Stud Benefits
Security

: Unlike the peripheral weld used on a common bolt, the weld used to secure a weld stud fastener is a full cross sectional weld, so the full face of the fastener is welded in place for a strong, secure hold. And since there are no drilled holes – which weakens the structural integrity of the application – the attachment is even stronger.

Speed

: Installing a Monel weld stud is a fast and simple process with a most fasteners taking less than 1 second to weld in place. Plus there is no secondary work such as drilling, polishing or grinding.

Simplicity

: Weld studs require almost no special skills and minimal training and equipment is needed for installation. In addition, the equipment is also portable.

Variety

: Monel weld studs are available in a wide variety of fastener styles including (but not limited to) fully threaded, partially threaded, full base, reduced base, long, tapped base, and shoulder thread to name a few.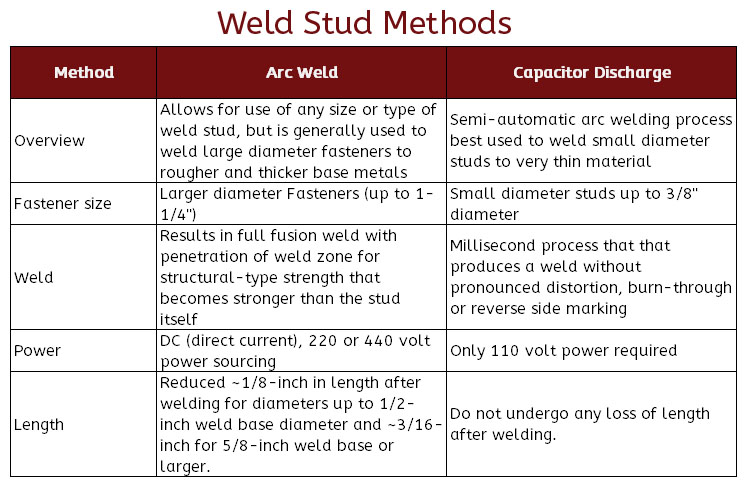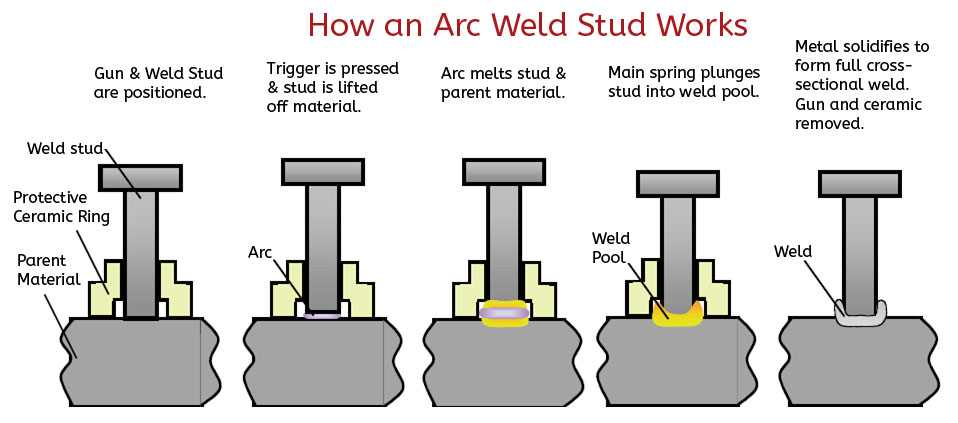 ---
Monel 400 Weld Stud Chemistry and Specifications
Monel 400, UNS N04400 (QQ-N-281), is a nickel-copper alloy with high strength and excellent corrosion resistance in a range of media including sea water, hydrofluoric acid, sulfuric acid, and alkalies. Monel 400 is commonly in marine engineering, chemical and hydrocarbon processing applications.
Monel 400 Specifications: BS3075NA13 (Wire), BS3076NA13 (Bar), ASTM B 164 (Rod, Bar, and Wire), ASTM B 564 (Forgings), ASME SB 164 (Rod, Bar, and Wire), ASME SB 564 (Forgings), AECMA PrEN 2305 (Wire for Rivets), SAE AMS 4675 (Bars and Forgings), SAE AMS 4730 (Wire), SAE AMS 4731 (Wire and Ribbon), DIN 17752 (Rod and Bar), DIN 17753 (Wire), DIN 17754 (Forgings), VdTÜV 263 (Sheet, Plate, Bar, and Tubing), QQ-N-281 (Plate, Sheet, Strip, Bar, Rod, Wire, and Forgings), Werkstoff 2.4360

---
Mechanical Properties of Monel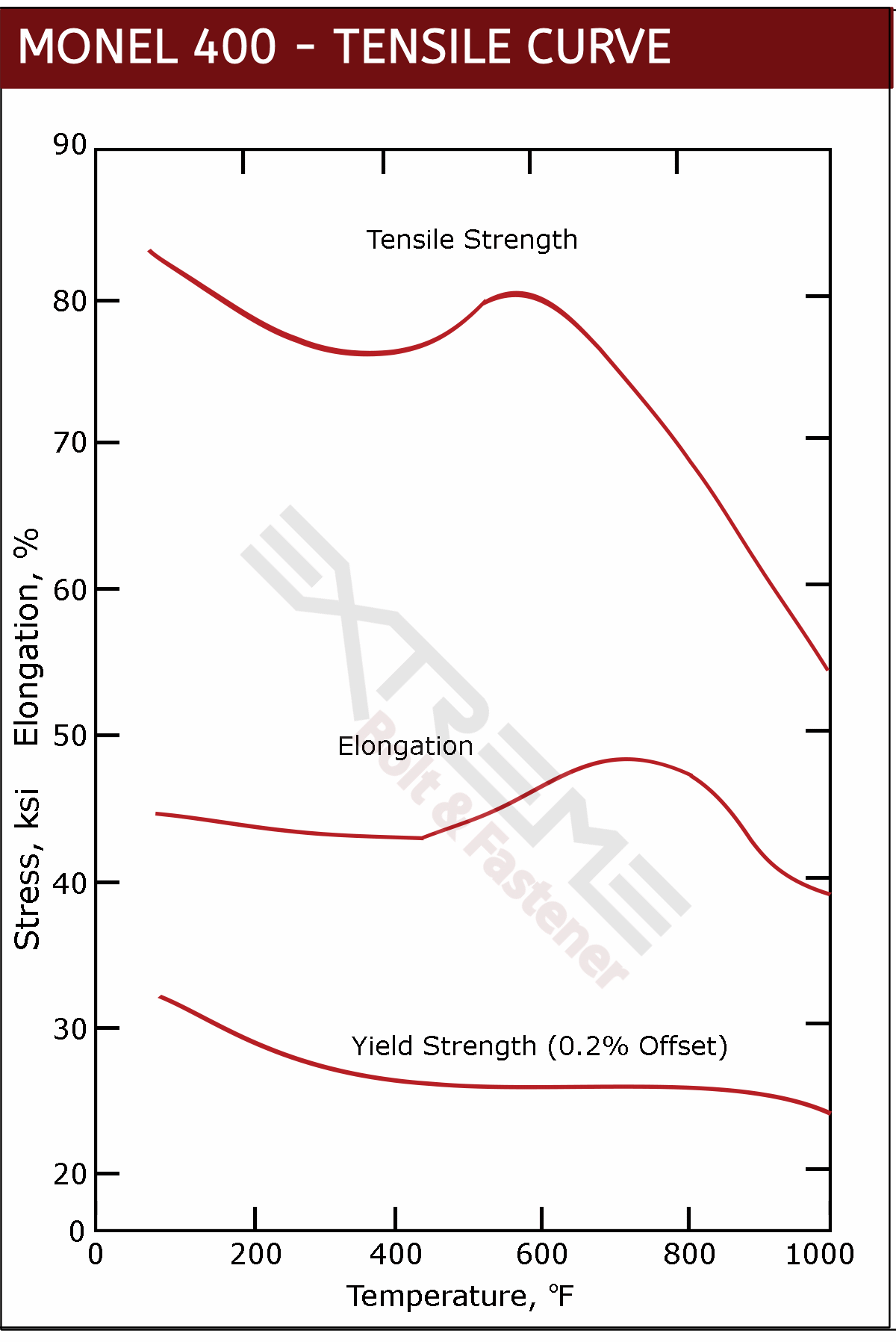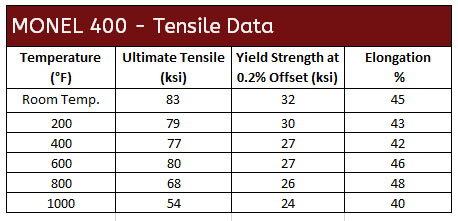 ---
Monel 400 Corrosion Data