Best Materials for Cryogenic Temperatures
Fasteners that could withstand cryogenic conditions are often needed in liquified gas and superconducting applications to name a few. While most materials become hard and brittle in these frigid environments, some bolt materials can retain their mechanical properties within a cryogenic environment.
This chart can help provide additional prospective on sub-zero temperatures when reviewing possible materials to use.

Polymers Fasteners for Cryogenic Environments
PTFE
PTFE screws are made of a class of material called fluoropolymers. Though they lose their flexibility at low temperature – as many materials do – they retain their lubricity, abrasion resistance, and strength, which is quite unique. PTFE screws have proven to be among the top fluoropolymers for cryogenics and are usable down to -328 °F (-200 °C). Even in this frigid environment, they will show little or no brittleness. In addition, PTFE screws remain highly flexible to nearly -100 °F below. While there are other fluoropolymers that can perform in extreme cold environments, they are not able to retain their material capabilities like PTFE.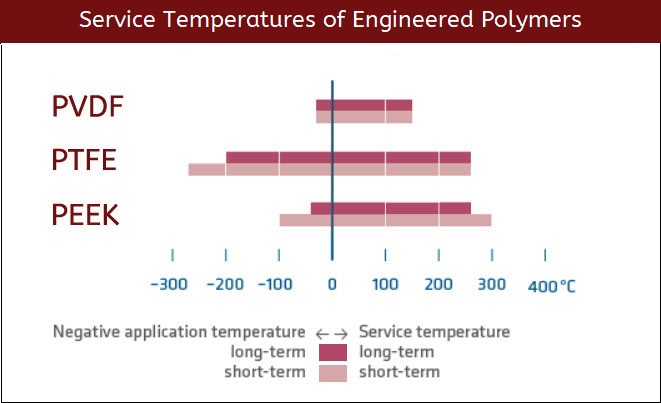 Specialty Metals Fasteners for Cryogenic Environments
A286
A286 or Alloy 660 bolts are typically known for strength in high temperatures up to 1300F. This stainless steel alloy is not only usable at extreme highs, but also down to approximately -320°F. A286 bolts are also non-magnetic at sub-zero temperatures.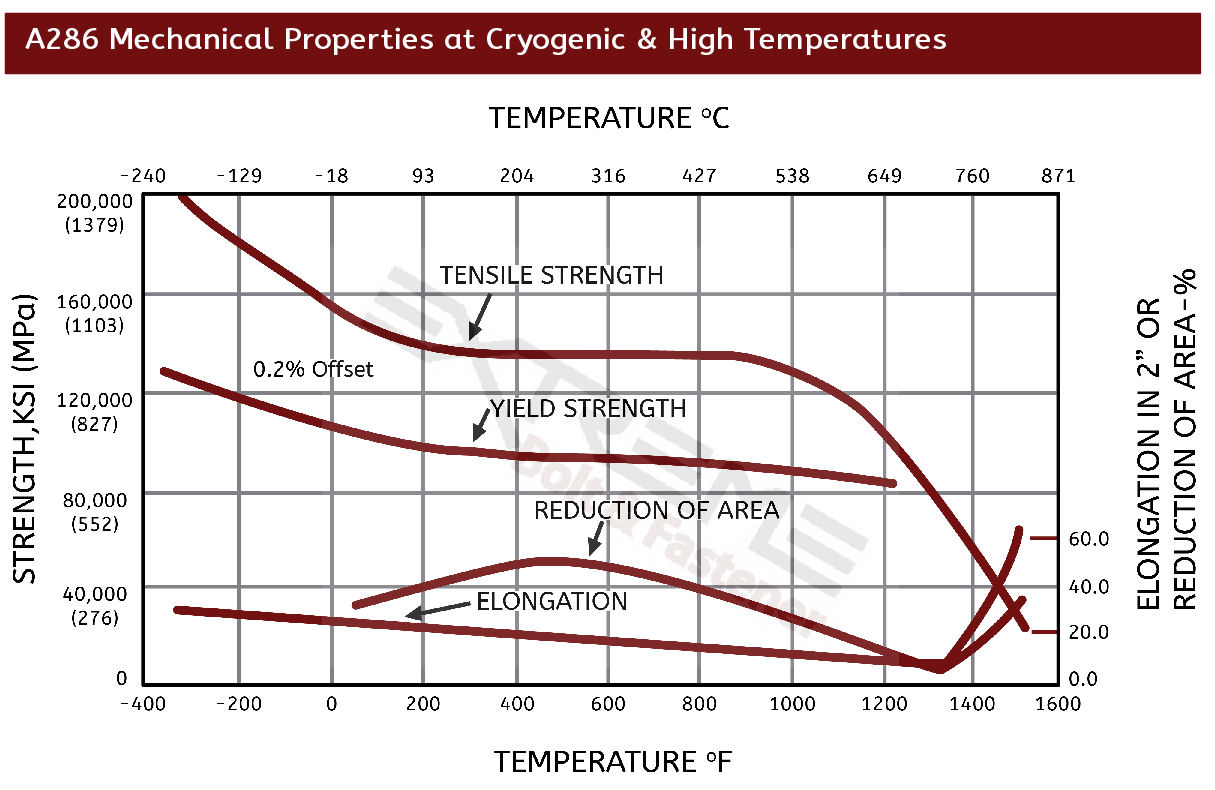 310 Stainless Steel
Bolts made of 310 stainless steel are renowned for their extreme high temperature oxidation resistance , but also find a place in cryogenic service. 310 bolts offer low temperature usability down to -450°F. Even in subzero temps, 310 bolts retain their toughness and offer low magnetic permeability.
Monel
In addition to being usable up to 1000°F, both Monel 400 and K500 bolts have excellent cryogenic properties. Monel 400 has demonstrated good toughness and ductility in US Navy Tear Tests down to -320F. In addition, K500 bolts offer increased strength, with little loss to ductility and toughness down to the temperature of liquid hydrogen. Monel bolts are also known for their saltwater resistance, as well as unmatched protection to hydrofluoric acid.
Inconel
Renowned for its high temperature stability, amazing strength and superb corrosion resistance, Inconel 718 bolts are also usable at cryogenic temperatures. Inconel 718 bolts have been proven usability down to -320°F – offering a large span of service from -320°F to 1300°F. Inconel 718 is also extremely strong with a maximum UTS up to 210ksi, as well as excellent corrosion resistance.
Inconel 718 is not alone in servicing low temperature applications. Inconel 625 bolts are also ideal for cryogenics, offering excellent ductility and strength at low temperature.