Extreme Bolt & Fastener will continually seek ways to improve our product quality, business, and systems to ensure that the best possible products and customer experience are delivered.
ISO9001:2015 Certification


ISO certificate number US4286 on behalf of QAS International, an independent assessment agency, certifies our management systems, standards, and guidelines. This globally recognized certification verifies our pledge to provide customers with quality specialty material fasteners, service, and expertise. We have been ISO certified for 5 years now. Please contact us for a copy of our certificate.
ITAR Registered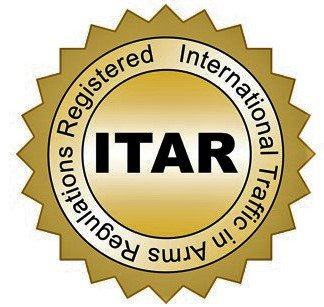 We often work with military and mil spec fasteners. In order to best serve our customers, Extreme Bolt & Fastener is ITAR registered. ITAR ( International Traffic in Arms Regulations) registration means that we are compliant with the regulations administered by the State Department to control the export and import of defense and military related technologies on the United States Munitions List.
NIST 800-171 System Security
Extreme Bolt & Fasteners maintain an IT security awareness and training program, as a part of the IT security. We are constantly updating, protecting and securing sensitive information to the highest industry standards.
Policy on Conflict Minerals
Extreme Bolt & Fastener is committed to supporting its customer base by complying with Section 1502 of the Dodd-Frank Act. Extreme Bolt & Fastener shall support assessing the supply chain by exercising due diligence regarding conflict minerals, their source of origin and whether they are considered conflict free. It is Extreme Bolt & Fastener's policy to work with suppliers that are free of conflict minerals from the DRC or are effectively working toward said goal.
RoHS Compliance
Extreme Bolt & Fastener is compliant to the European Union's Directive 2015/863/EU, the Restriction of the Use of certain Hazardous Substances in Electrical and Electronic Equipment (RoHS). Our products do not exceed the allowable amounts of the following restricted materials: lead, mercury, cadmium, hexavalent chromium, polybrominated biphenyls (PBB) and polybrominated diphenyl ethers (PBDE).
DFARS 252.204-7020, NIST SP 800-171 Compliance
Extreme Bolt & Fastener has a submitted Assessment Score in SPRS to the Department of Defense in accordance with DFARS 252.204-7020. We anticipate the DCMA confirming a DIBCAC medium assessment score in 2021. Our cybersecurity procedures and policies are in place to protect all our customer's private, confidential, or export-controlled documents.
REACH Compliance
All Extreme Bolt & Fastener material complies to Commission Regulation (EU) 2020/878 of 18 June 2020 amending Annex II to Regulation (EC) No 1907/2006 of the European Parliament and of the Council concerning the Registration, Evaluation, Authorization and Restriction of Chemicals (REACH). Furthermore, our product(s) do not contain any of the 219 REACH SVHCs as updated by ECHA on July 8, 2021 in concentrations above 1000PPM.
California Proposition 65 Compliance
Products supplied by Extreme Bolt & Fastener comply with the State of California's Proposition 65, the Safe Drinking Water and Toxic Enforcement Act. Our products do not require a Proposition 65 warning label.