A Ni-Cr alloy with very good high temperature stability
Not to be confused with Inconel, Incoloy set screws are made of a nickel alloy which contains iron and a lower content of nickel. Incoloy is essentially a more economical option to Inconel, yet with more restricted corrosion resistance and temperature limits. Typically, Incoloy is an ideal material for long-term exposure in high temperature environments due to its oxidation, carburization and creep resistance. Incoloy is widely used for its resistance to seawater, brine, sour gas and high chloride environments at elevated temperatures, which make it a popular choice in the oil and gas and power industries.
The most commonly used grades of Incoloy screws are Incoloy 800, 800H, 800HT; Incoloy 825; and Incoloy 925. For more indepth information on these specific grades, visit our specific web pages or contact one of our engineering experts:
Datasheets: Incoloy 800, 800H 800HT; Incoloy 825; and Incoloy 925
Resources: Incoloy Torque Specs, Flange Dimensions, Flange Bolting Chart
Incoloy Fastener Types: Bolts, Nuts, Screws, Threaded Rods, Washers
Screw Types Available: 12 Point Screws, Button Head Cap Screws, Flat Head Screws, Hex Head Cap Screws, Pan Head Screws, Set Screws, Socket Head Cap Screws, Tamper Resistant Security Screws, Torx Screws, Vented Screws
---
Set Screw Features & Benefits
Incoloy set screws are unique in that they have no screw head, meaning that they have no protruding part past the threaded shaft. They are thread only and are available with a socket or slotted driver insert at one end. Set screws are used to secure an object within or against another object. Typically they secure a rotating part such as a gear or shaft. Incoloy set screws are driven through a threaded hole in the rotating part until it is tight against the inner object, preventing from moving relative to the outer object. Set screws are available with various points depending on the application.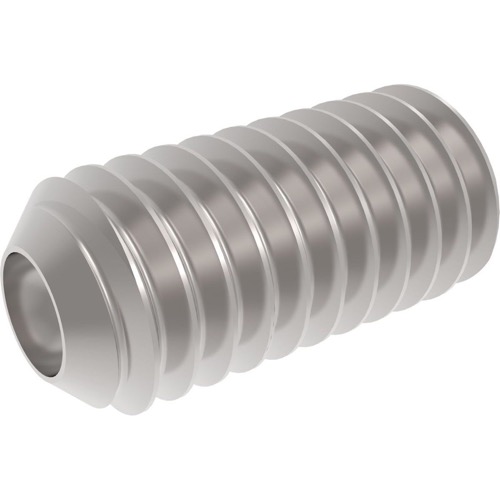 Cup Point
This is the most commonly used set screw and is identified by a cup-shaped indentation on one end. Incoloy cup points are typically used for a quick, semi-permanent or permanent applications where it is acceptable to cut the cup point edge of the screw.
Cone Point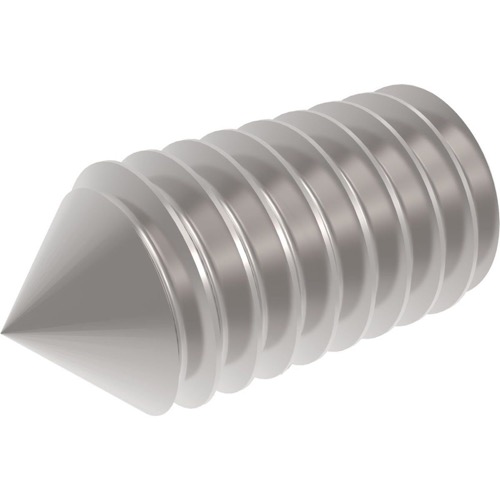 A cone point is easily identifiable by its sharp cone-shaped point – just like an ice cream cone. Incoloy cone point set screws deliver the strongest clamping force due to the deep penetration of the point. As a result they are used for permanent assembly.
Flat Point
The cheapest and simplest of the set screw point styles, this screw has a flat surface on the bottom of the screw. This type is used when you need the ability to frequently change parts and require minimal shaft deformation.
---
Common Incoloy Chemistry, Grades & Specifications
Incoloy 800, 800H, H00HT
Incoloy 800 series screws are best utilized for applications that require stable structure and good strength during prolonged exposure to high temperatures.
Incoloy 800, 800H & 800HT Specifications: UNS N08800/ N08810 / N08811 (800, 800H, 800HT), ASTM B408, ASME SB408, ASTM B564/ASME SB564, EN 10204-3.1, Werkstoff 1.4876 (800), Werkstoff 1.4876 H and 1.4958 (800H), Werkstoff 1.4876 HT and 1.4959 (800HT)
Incoloy 825
Related to the Incoloy 800 series alloys, Incoloy 825 differentiates itself with the additional elements of molybdenum and copper, which provides it improved corrosion resistance.
Incoloy 825 Specifications: UNS N08825, , BS 3076NA16, ASTM B 425, ASTM B 564, ASME SB 425, ASME SB 564, ASME Code Case N-572, DIN 17752, DIN 17753, DIN 17754, VdTÜV 432, ISO 9723, ISO 9724, ISO 9725, Werkstoff Nr 2.4858

Incoloy 925
Incoloy 925 is a precipitation hardened alloy. It offers comparable corrosion resistance to it's sister alloy Incoloy 825, but with the increased strength resulting from the age hardening process.
Incoloy 925 Specifications: UNS N09925, ASTM B637, NACE MR0175

---
Mechanical Properties of Incoloy