Good Mid-Range Corrosion Resistant Alloy
Also known as Carpenter 20 and 20CB-3, Alloy 20 slip-on flanges offer users a combination of nickel, chromium, molybdenum, and copper which provides good general corrosion resistance. Alloy 20 slip-on flanges are best suited for mid-range corrosion use – better than steel alloys but not at the level of high performance nickel based alloys like Hastelloy C276. Alloy 20 is a nickel alloy that was initially designed to withstand the harsh environment of hot sulfuric acid but also performs well in a variety of other acids. Alloy 20 slip-on flanges are an ideal choice when you don't need the corrosion resistance power and price-tag of high performance nickel alloys like Hastelloy C276; but you need something that will give you more protection than 316 stainless steel or even a Super Duplex 2507 stainless steel.
Corrosion Resistance
Alloy 20 slip-on flanges provide good performance in hot sulfuric acid, specifically they offer good resistance to stress-corrosion cracking in boiling sulfuric acid at specific range of 20% to 40% concentration, as well as general sulfuric acid resistance. Alloy 20 offers solid acid protection and will perform better than Duplex or even Monel, but for high temperature and high concentration acids, you may need to look to Inconel or Hastelloy fasteners. In addition, Alloy 20 slip-on flanges also show useful resistance to phosphoric acid and nitric acid.
Key Corrosion Resistant Features:
Good sulfuric acid protection at 20% - 40%
Decent stress corrosion cracking, pitting and crevice corrosion resistance in chloride
Resonable general corrosion protection
Good intergranular corrosion resistance in the as-welded condition
Mechanical Properties
• Ultimate tensile strength: 80 ksi
• Yield strength: 35 ksi
• Density: 0.292 lb/in.3
• Electrical Resistivity (RT) 651 ohm-cir mil/ft
• Elongation: 30%
Temperature
In addition to their corrosion resistance, Alloy 20 slip-on flanges also perform well at moderately high temperatures, with the ability to maintain their mechanical strength up to 1000°F.
Welding
Alloy 20 slip-on flanges are stabilized with Columbium to minimize carbide precipitation during welding. In addition it offers intergranular corrosion resistance in the as-welded condition.
Applications
• Power plants rely on alloy 20 slip-on flanges for flue-gas desulfurization
• Alloy 20 slip-on flanges are used to connect heat exchangers, mixing tanks, metal cleaning equipment, pickling tanks and racks, and piping in mid-range corrosive chemcial processing environments.
• Alloy 20 slip-on flanges help solve corrosion issues in food and dye production.
• Manufacturers of plastics and synthetic rubber also utilize alloy 20 fasteners.
Resources: Alloy 20 Torque Specs, Flange Dimensions, Flange Bolting Chart
Flange Types Available: Blind Flanges, Lapped Joint Flanges, Slip On Flanges, Socket Weld Flanges, Threaded Flanges, Weld Neck Flanges
---
Alloy 20 Chemistry & Specifications
Alloy 20 Specifications: UNS N08020, ASME SA240, , ASME SB366, ASME SB462, ASME SB463, ASME SB464, ASME SB473, ASME SB729, ASTM A240, ASTM B366, ASTM B463, ASTM B464, ASTM B473, ASTM B729, ASTM BB462, ANSI/ASTM A555-79, EN 2.4660, , Werkstoff 2.4660, CN7M, DIN 2.4660

---
Alloy 20 Sulfuric Acid Performance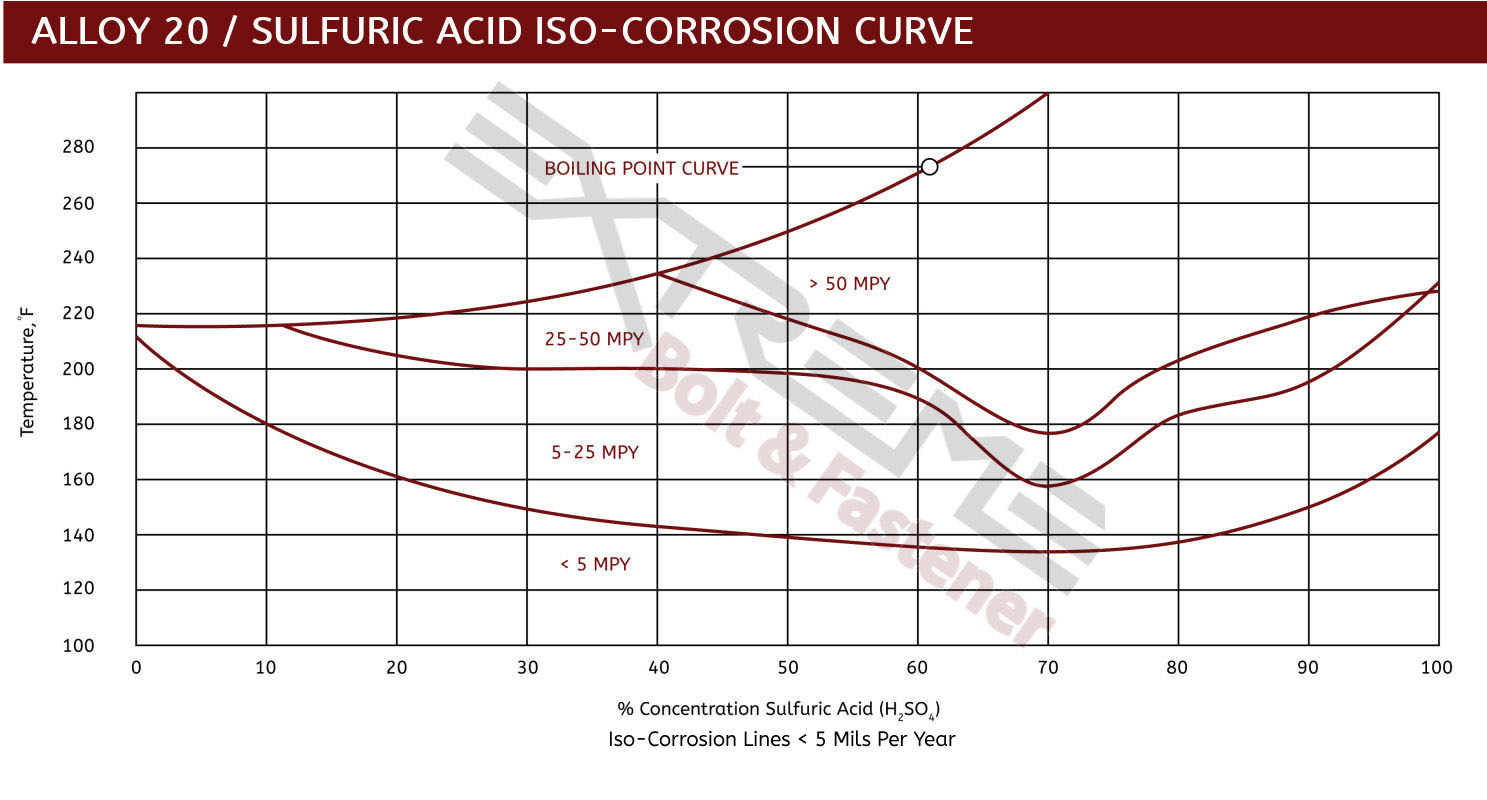 Alloy 20 Sulfuric Acid Comparison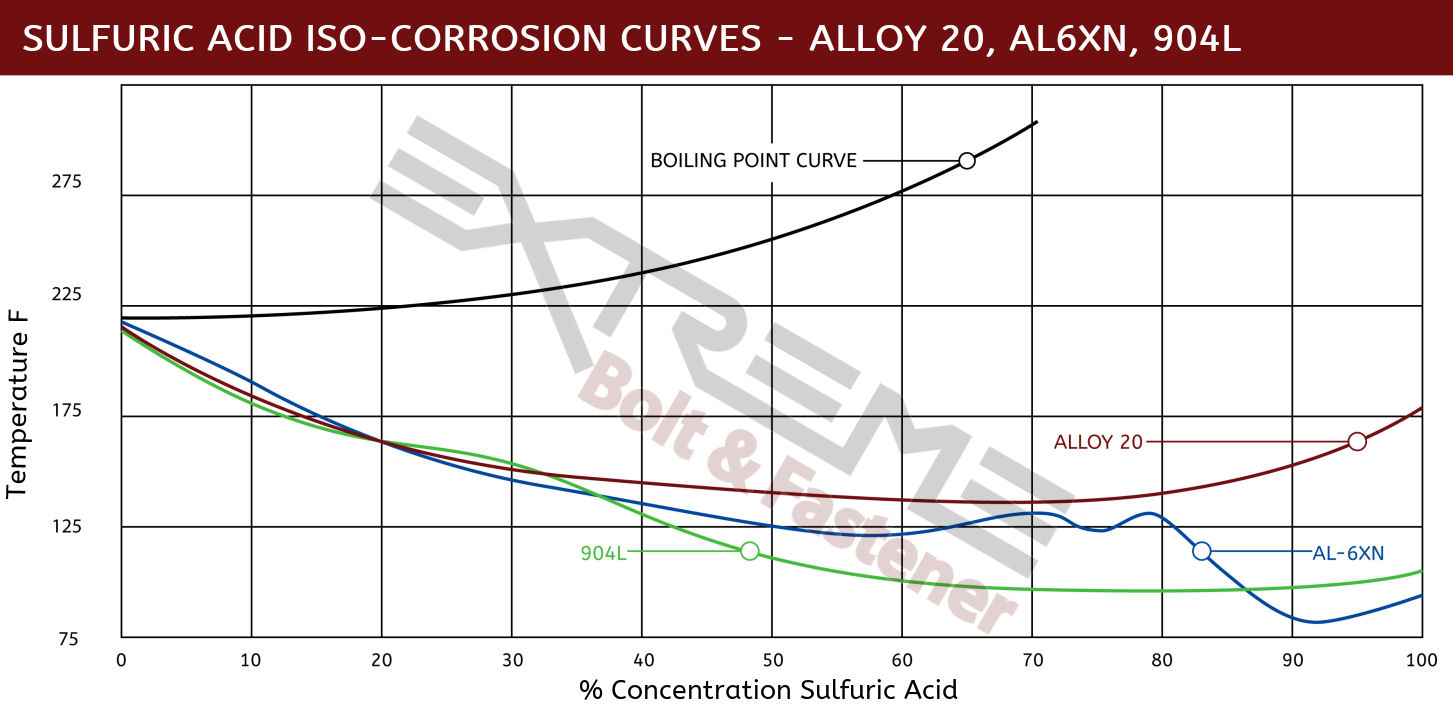 ---
Alloy 20 Slip on Flange Features & Benefits

Alloy 20 slip on flanges are similar to the socket weld flange but without the socket shoulder. When using a socket weld flange, the pipe rests against this internal shoulder. Since a slip on flange does not have shoulder, the pipe can slide completely through the flange hub and is free to spin.
Advantages
T

ypically lower in price than weld-neck flange, yet welding costs can be more.
There is a reduced need to cut the pipe length accurately, making it easier to install.
The slip on flange is free to spin on the pipe for easy bolt alignment.
Disadvantages
They require two fillet welds: one fillet weld at the hub of the flange and a second weld at the inside diameter of the flange near the flange face.
Though they can be used for high temperature and pressure applications, they typically are not as other flange types give a more secure joint.