An engineered high temperature resistant steel
Alloy 330 lock nuts are specifically designed for high temperature furnace applications such as vacuum furnaces, heat treating and brazing applications. The most prized trait of alloy 330 is its ability perform under cyclic conditions of temperature extremes from heating and cooling; as well as in alternate carburizing and oxidizing atmospheres. An austenitic, nickel-chromium-iron-silicon alloy, 330 lock nuts also offer industry a low coefficient of expansion, excellent ductility, and high strength.
Benefits & Corrosion Resistance
Resistance to thermal shock from repeated quenching
High level of resistance to oxidation and carburization
Ability to handle thermal cycling
Provides resistance to scale formation up to about 2000°F
Good resistance to nitrogen-containing atmospheres where the oxygen content is low
High nickel content of 34-37% provides high resistance to chloride stress corrosion cracking and embrittlement
Applications for Alloy 330 Lock Nuts
Alloy 330 lock nuts are often used in furnaces, thermal processing and heat treating applications.
Gas turbine components and boiler fixtures used in power generation often use Alloy 330 lock nuts.
Because of its resistance to nitrogen rich environments, alloy 330 lock nuts are used extensively for components handling cracked ammonia.
Alloy 330 Properties

Tensile Strength (ksi)
80-85
Yield Strength (ksi)
30-43
Elongation in 2"
40-45
Rockwell B Hardness
70-85
Density (lb/in3)
0.292
Specific Heat (Btu/lb/°F (32°-212°F)
0.11
Modulus of Elasticity Tension
28.5
Resources: Alloy 330 Torque Specs
---
Alloy 330 Locknut Features and Beneifts
An alloy 330 locknut resists loosening from vibrations and torque. One of the most common styles is a prevailing torque locknut. This kind of alloy 330 locknut has a prevailing torque feature which deforms elastically, preventing it from freely spinning like a standard nut.
The two most common and reliable forms of prevailing torque locknuts are the flexloc style and the polymer insert lock nut. A alloy 330 flexloc nut is all-metal in composition with a segmented collar that creates six "locking fingers," that act as a spring. Alloy 330 polymer insert lock nuts are often referred to as nylon insert locknuts, although various high performance polymers can be used for the screw threads to "bite into." Both flexlock and polymer insert locknuts are available in both hexagonal and 12 point configurations.
All Metal Flexloc Lock Nut
Polymer/Nylon Insert Lock Nut

Can be used at high temperatures
Distributes load evenly due to the fact that it is manufactured as one solid piece.
Is THE most reliable all-metal self-locking nut.
As it is all metal, it is best for high temperature or corrosive applications
One of the only all-metal lock nuts that is certified to 15 cycles of prevailing torque – which is military standard.

Overall the most reliable locknut, with the only limitation of application temperature
Best for low temp applications, typically less than 350°F
Various polymers inserts available (Nylon, Vespel, PVDF, etc.) for higher temp. or corrosive applications.
Excellent reusability – can reliably be re-used 15 times
Eliminates galling and cold-welding common with exotic alloys
Other all metal lock nuts available include the alloy 330 stover and elliptical styles. Though these styles are often a cheaper initial cost, they are less reliable than the flexloc style. As these styles delivering less prevailing torque cycles and often result in more failures, the flexloc style is a better investment for both reliability and cost savings.
---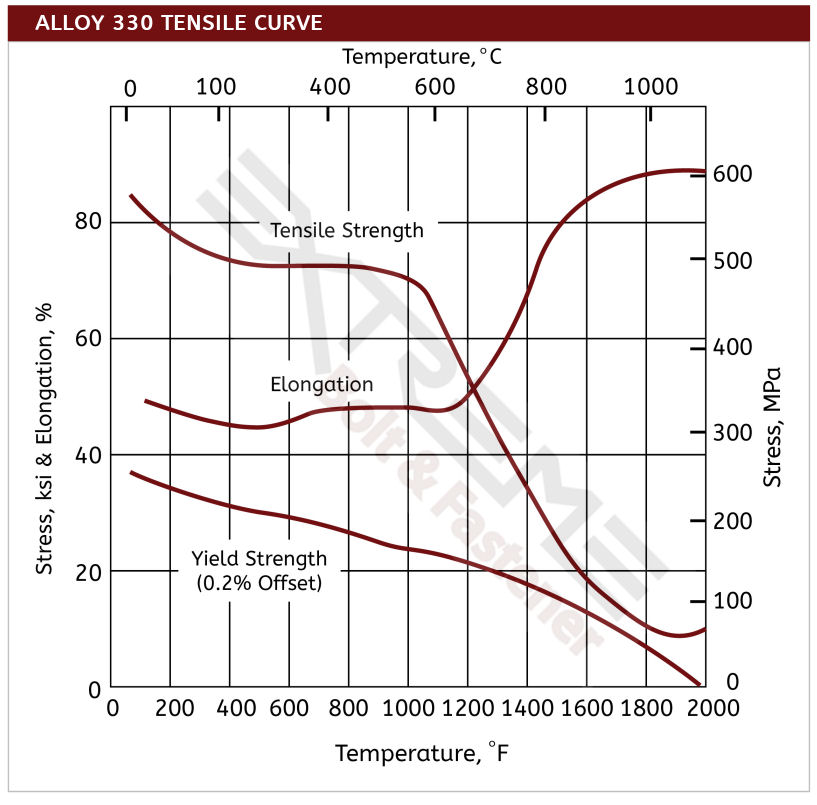 ---
Alloy 330 Chemistry and Specifications
Alloy 330 (UNS N08330) is best known for its extreme high temperature strength and stability. One of the most unique attributes of Alloy 330 is its ability to handle cyclic temperature changes from extreme high temperatures to cooling phases, as well as in oxidation-rich environements.
Alloy 330 Specifications: UNS N08330, AMS 5592, AMS 5716, ASME SB 511, ASME SB 536, ASTM B 511, ASTM B 512, ASTM B 535, ASTM B 536, ASTM B 546, ASTM B 710, ASTM B 739, EN 10095, Werkstoff 1.4886