An engineered high temperature resistant steel
Alloy 330 socket weld flanges are specifically designed for high temperature furnace applications such as vacuum furnaces, heat treating and brazing applications. The most prized trait of alloy 330 is its ability perform under cyclic conditions of temperature extremes from heating and cooling; as well as in alternate carburizing and oxidizing atmospheres. An austenitic nickel-chromium-iron-silicon alloy, 330 socket weld flanges also offer industry a low coefficient of expansion, excellent ductility, and high strength.
Benefits & Corrosion Resistance
Resistance to thermal shock from repeated quenching
High level of resistance to oxidation and carburization
Ability to handle thermal cycling
Provides resistance to scale formation up to about 2000°F
Good resistance to nitrogen-containing atmospheres where the oxygen content is low
High nickel content of 34-37% provides high resistance to chloride stress corrosion cracking and embrittlement
Applications for Alloy 330 Socket Weld Flanges

Alloy 330 flanges are often used in furnaces, thermal processing and heat treating applications.
Gas turbine components and boiler fixtures used in power generation often use Alloy 330 socket weld flanges.
Because of its resistance to nitrogen rich environments, alloy 330 flanges are used extensively for components handling cracked ammonia.
Alloy 330 Properties

Tensile Strength (ksi)
80-85
Yield Strength (ksi)
30-43
Elongation in 2"
40-45
Rockwell B Hardness
70-85
Density (lb/in3)
0.292
Specific Heat (Btu/lb/°F (32°-212°F)
0.11
Modulus of Elasticity Tension
28.5
Resources: Alloy 330 Torque Specs, Flange Dimensions, Flange Bolting Chart
Flange Types Available: Blind Flanges, Lap Joint Flanges, Slip On Flanges, Socket Weld Flanges, Threaded Flanges, Weld Neck Flanges
---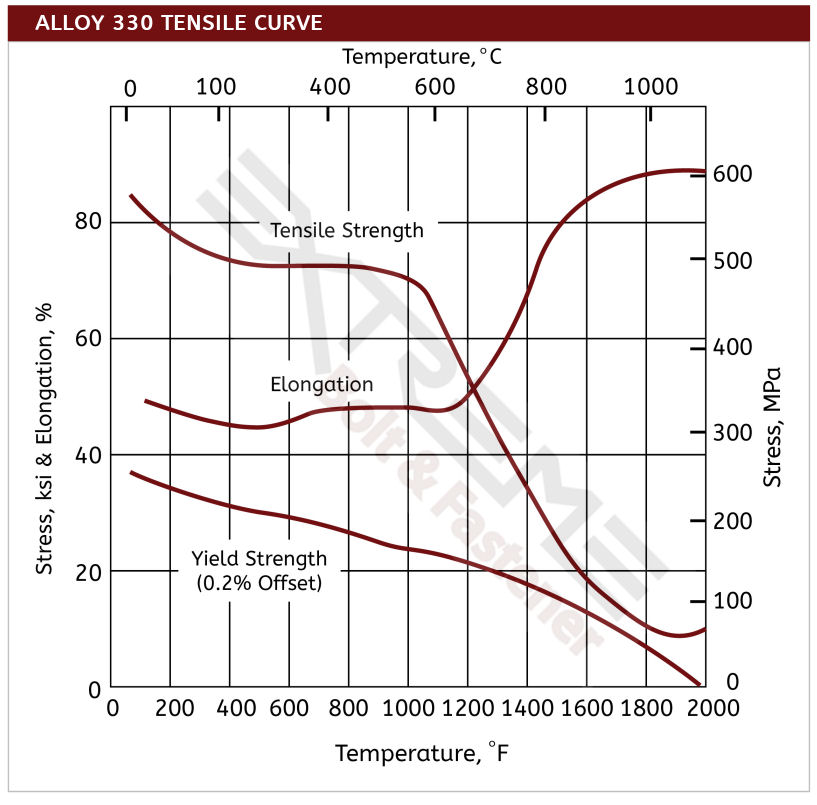 ---
Socket Weld Flange Features & Benefits
Similar to a slip on flange, an alloy 330 socket weld flange has an added shoulder inside the bore hole. The socket weld flange is designed so that a pipe can be inserted into the socket of the flange until it hits the shoulder of the socket. The pipe is then backed away from the shoulder approximately 1/16 inches before being welded to the flange hub. This internal weld provides this type of flange added strength. In addition, by grinding the internal weld smooth, turbulence and flow restriction are minimized. Alloy 330 socket weld flanges are most commonly used on small diameter applications (1/2" through 4") and high pressure piping systems.
Socket Weld Flange Benefits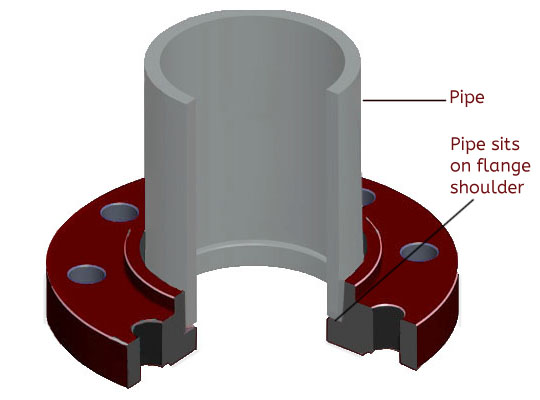 Best for small size, high pressure applications
Static strength equal to a slip on flange yet boasts a fatigue strength 1.5 times that of the slip on design
Employs both a backside hub weld and an internal shoulder weld for increased strength
Socket weld flanges delivers a lower risk of leakage than threaded flanges
Socket weld pipes do not have to be beveled for weld preparation
Butt-welded joints are easily fitted and no special machining
Socket Weld Flange Disadvantages
The expansion gap and internal crevices left in socket welded systems can promote crevice corrosion.
Socket weld flanges have two welds which makes them stronger yet more labor intensive to install. Due to the increased welding, it has become the practice to weld only at the hub of the flange, which is not recommended.
Installation Tips
The socket weld pipe fittings should allow for expansion gap of 1/16 inch (1.6 mm) between pipe and the shoulder of the socket.
---
Alloy 330 Chemistry and Specifications
Alloy 330 (UNS N08330) is best known for its extreme high temperature strength and stability. One of the most unique attributes of Alloy 330 is its ability to handle cyclic temperature changes from extreme high temperatures to cooling phases, as well as in oxidation-rich environements.
Alloy 330 Specifications: UNS N08330, AMS 5592, AMS 5716, ASME SB 511, ASME SB 536, ASTM B 511, ASTM B 512, ASTM B 535, ASTM B 536, ASTM B 546, ASTM B 710, ASTM B 739, EN 10095, Werkstoff 1.4886