A Ni-Cr alloy with very good high temperature stability
Incoloy weld studs are available in a variety of fastener styles for manual (MIG, TIG) arc and capacitor discharge welding methods. Oxidation, carburization and creep resistant, Incoloy weld studs provide a secure, cross-sectional weld in single-sided access situations, making them ideal for long-term exposure in high temperature environments.
Not to be confused with Inconel, Incoloy weld studs are made of a nickel alloy which contains iron and a lower content of nickel. Incoloy is essentially a more economical option to Inconel, yet with more restricted corrosion resistance and temperature limits. Incoloy is widely used for its resistance to seawater, brine, sour gas and high chloride environments at elevated temperatures, which make it a popular choice in the oil and gas and power industries.
Datasheets: Incoloy 800, 800H 800HT; Incoloy 825; and Incoloy 925
Resources: Incoloy Torque Specs, Flange Dimensions, Flange Bolting Chart,
Incoloy Fastener Types: Bolts, Nuts, Threaded Rods, Washers
Screw Types Available: 12 Point Screws, Button Head Cap Screws, Flat Head Screws, Hex Head Cap Screws, Pan Head Screws, Set Screws, Socket Head Cap Screws, Torx Screws, Vented Screws
---
Incoloy Weld Stud Features & Benefits
Available in alloy 800 and 825, Incoloy weld studs are an ideal way to securely attached fasteners in extreme applications where reaching both sides of a structure is impossible or undesired. These weld studs can be attached by a variety of welding techniques, such as MIG or TIG welding or they can be attached by automated welding guns using Arc or Capacitor Discharge (CD) technologies.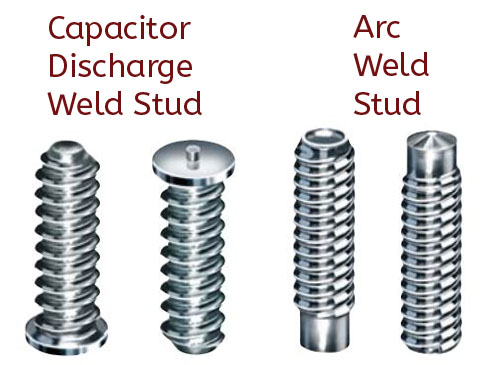 Arc and Capacitive Discharge (CD) Weld Stud Benefits
Security

: Unlike the peripheral weld used on a common bolt, the weld used to secure a weld stud fastener is a full cross sectional weld, so the full face of the fastener is welded in place for a strong, secure hold. And since there are no drilled holes – which weakens the structural integrity of the application – the attachment is even stronger.

Speed

: Installing an Incoloy weld stud is a fast and simple process with a most fasteners taking less than 1 second to weld in place. Plus there is no secondary work such as drilling, polishing or grinding.

Simplicity

: Weld studs require almost no special skills and minimal training and equipment is needed for installation. In addition, the equipment is also portable.

Variety

: Incoloy weld studs are available in a wide variety of fastener styles including (but not limited to) fully threaded, partially threaded, full base, reduced base, long, tapped base, and shoulder thread to name a few.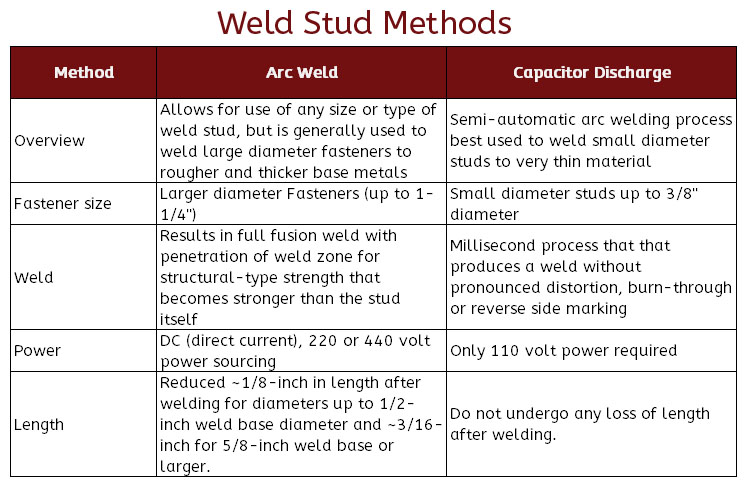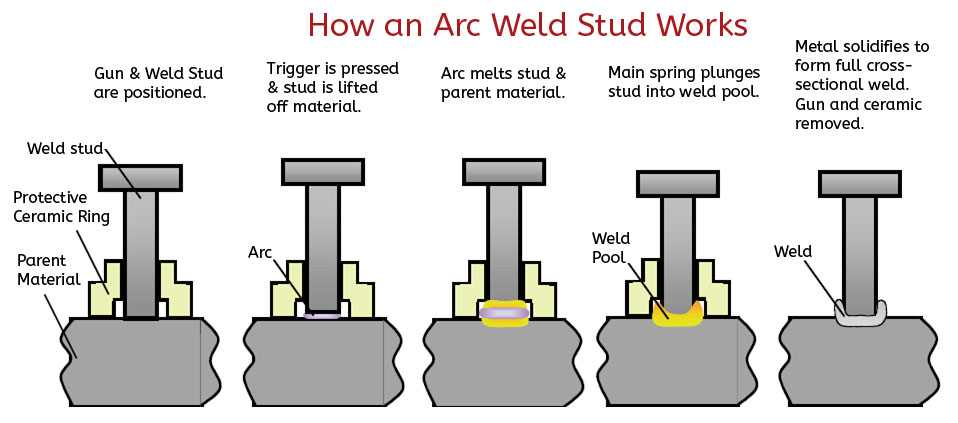 ---
Chemistry & Specifications of Incoloy 800 & 825 Weld Studs
Incoloy 800, 800H, H00HT
Incoloy 800 screws are best utilized for applications that require stable structure and good strength during prolonged exposure to high temperatures.
Incoloy 800, 800H & 800HT Specifications: UNS N08800/ N08810 / N08811 (800, 800H, 800HT), ASTM B408, ASME SB408, ASTM B564/ASME SB564, EN 10204-3.1, Werkstoff 1.4876 (800), Werkstoff 1.4876 H and 1.4958 (800H), Werkstoff 1.4876 HT and 1.4959 (800HT)
Incoloy 825
Related to the Incoloy 800 series alloys, Incoloy 825 differentiates itself with the additional elements of molybdenum and copper, which provides it improved corrosion resistance.
Incoloy 825 Specifications: UNS N08825, , BS 3076NA16, ASTM B 425, ASTM B 564, ASME SB 425, ASME SB 564, ASME Code Case N-572, DIN 17752, DIN 17753, DIN 17754, VdTÜV 432, ISO 9723, ISO 9724, ISO 9725, Werkstoff Nr 2.4858

---
Mechanical Properties of Incoloy