Grade 2 (3.7035): Light weight and corrosion resistance
Commercially pure, Titanium Grade 2 (3.7035) fasteners offer broad-range usability and are most known for their lightness of weight, corrosion resistance and reasonable economics. If high strength is not a primary concern, Titanium Grade 2 fasteners may be a good choice (50ks yield), although if the application requires high strength bolting, Titanium Grade 5 (138 ksi yield) may be an alternative worth considering.
Corrosion Resistance
Titanium Grade 2 fasteners offer resistance to general localized attack under most oxidizing, neutral and inhibited reducing conditions. This is due to the fact that titanium has a very stable oxide film called a passive layer, which regenerates almost instantly in the presence of water or oxygen. Titanium Grade 2 fasteners provide particularly strong inertness to chlorides, chlorines, and chlorine chemicals because of their strongly oxidizing nature which help to heal any damage to the passive layer.
Titanium Grade 2 fasteners are almost completely resistant to solutions containing:
• Chlorites
• Hypochlorites
• Chlorates
• Perchlorates
• Chlorine dioxide
Though Titanium Grade 2 provides outstanding performance in handling wet chlorine gas because its strongly oxidizing nature, dry chlorine can cause rapid attack on titanium and may even cause ignition. In most cases, 1% water is generally sufficient for passivation or re-passivation in chlorine gas under static conditions at room temperature, where as 1.5% or more is needed at heightened temperatures. Generally, in all corrosive environments titanium should not be used in conditions where there is an absence of water or oxygen since protective oxide layer may not be regenerated if damaged.
Seawater Corrosion Resistance
One of the most notable features of Grade 2 titanium is its strong resistance to sea water and all chloride environments. Titanium has excellent resistance to general corrosion by salt water even at high temperatures. When exposed to sea water at a mile beneath the ocean surface, Titanium has shown no signs of pitting or crevice corrosion even after many years. In addition, Titanium Grade 2 fasteners have the remarkable capability to resist erosion from high velocity seawater.
Mechanical Properties
Tensile Strength: 70.3 ksi
Yield Strength: 50 ksi
Thermal Conductivity: 114 BTU-in/h-ft-°F
Elongation: 28%
Density: 4.51 g/cm³ (0.163 lbs/in³)
Usable temperature limits of approximately 572°F / 300°C
Applications
• Power generation and desalination using saltwater require Titanium Grade 2 fasteners for corrosion protection at high temperatures.
• For decades pulp & paper, as well as bleaching plants and chlorate manufacturing have used Titanium Grade 2 for their resistance to chlorines.
• ClO2 generators which treat municipal drinking water, as well as waste water recovery systems look to Titanium Grade 2 fasteners for chlorine protection.
• Hydro-carbon processing and chemical processing also utilize Grade 2 titanium fasteners for their unique corrosive properties.
Datasheets: Titanium Grade 2 and Titanium Grade 5
Resources: Titanium Torque Specs, Flange Dimensions, Flange Bolting Chart
Titanium Fastener Types: Bolts, Hose Clamps, Nuts, Screws, Threaded Rods, Washer
Flange Types Available: Blind Flanges, Lap Joint Flanges, Slip On Flanges, Socket Weld Flanges, Threaded Flanges, Weld Neck Flanges
---
Titanium Grades, Chemistry & Specifications
Titanium Grade 2 (Commercially Pure)
Unalloyed titanium; Commercially pure titanium is the most common grade of titanium utilized throughout industry due to its ease of availability and good properties.
Titanium Grade 2 Specifications: UNS R50400, ASTM B 348, AMS 4921, ASTM F 67, ISO 5832-2, Werkstoff 3.7035

---
Mechanical Properties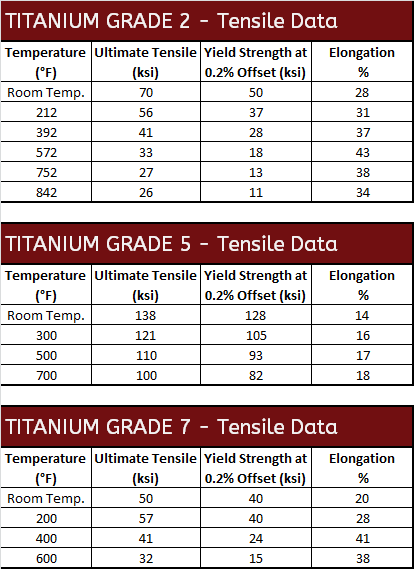 ---
Titanium's Resistance to Chlorine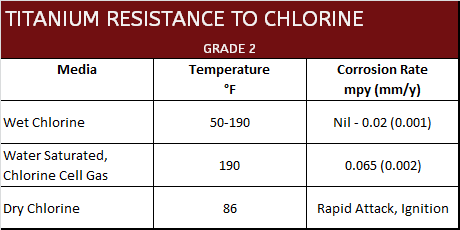 ---
Corrosion Data