An engineered high temperature resistant steel
Excellent high temperature stability
Very oxidation and carburization resistant to 2100°F
Good resistance to thermal shock and quenching
Weld neck flange features and benefits
Alloy 330 weld neck flanges are specifically designed for high temperature furnace applications. Alloy 330 weld neck flanges unique combination of properties allows this material to handle thermal shock from quenching, be oxidation and carburization resistant as well as handle thermal cycling well. As a result, alloy 330 weld neck flanges are found in high temperature applications like vacuum furnaces and high temperature exhaust applications.
Resources: Alloy 330 Torque Specs, Flange Dimensions, Flange Bolting Chart
Flange Types Available: Blind Flanges, Lap Joint Flanges, Slip On Flanges, Socket Weld Flanges, Threaded Flanges, Weld Neck Flanges
---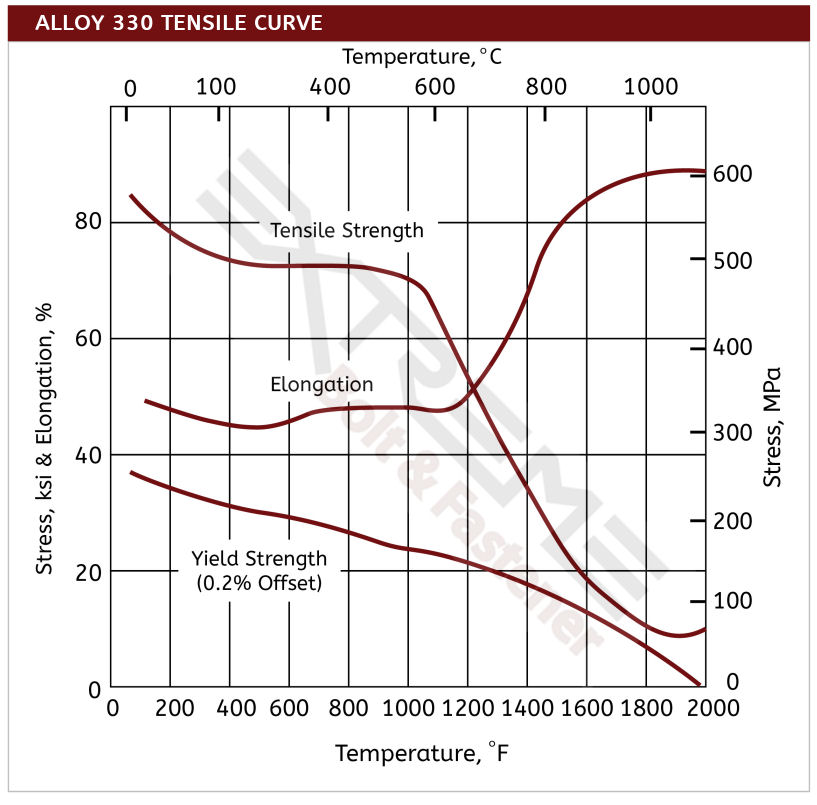 ---
Alloy 330 Weld Neck Flange Features & Benefits
Alloy 330 weld neck flanges are best for hazardous, high pressure applications. Weld neck flanges are easily identified by their long tapered neck. The inside of the flange is bored to match the inside diameter of the pipe in order to ensure there is no restriction in flow and also to prevent turbulence at the joint. The tapered neck provides thicker metal at the flange joint, while the neck narrows down gradually to meet the pipe where it is butt welded to the pipe. This design helps to transfer stress from the flange to the pipe, as well as diminish stress concentration at the base of the flange connection.
Alloy 330 weld neck flanges are ideal for critical applications involving high pressure, sub-zero and elevated temperatures, as well as in conditions where fluctuations cause pipe expansion/contraction.
Key Feature: Ideal for high presure applications.
Weld Neck Flange Advantages
Ability to withstand high pressure – since pipe is welded to the neck of the flange, stress is transferred to the pipe.
The beveled end that, when connected to a pipe, creates a trough for a strong weld.
Most versatile flange in the ASME stable of flanges.
Weld Neck Flange Disadvantages
More advanced welding skill is needed for installation. The inside weld must be smooth to reduce friction and the outside weld must meet code criteria.
Uses
Severe conditions that include high-pressure, high-cyclic and hazardous fluid applications.
Fitting-to-fitting fabrication where the flange is welded directly to a fitting, such as an elbow, without the need for a short piece of pipe, as would be required with a slip-on flange.