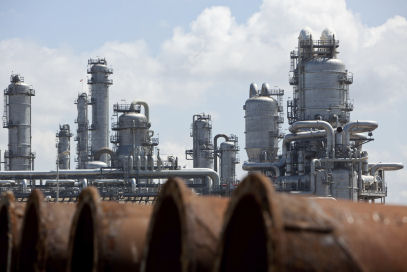 A high performace nickel alloy used for severe corrosion environments
This specialty nickel alloy offers better overall corrosion resistance to its sister alloy Hastelloy C-276, more specifically, it provides better protection when used in certain saturated wet chlorine environments. In addition, its high chromium content provides C22 fasteners and flanges much better resistance to oxidizing media that C276. This provides it exceptional resistance to chloride-induced pitting although, in most cases because of its availability, C-276 fasteners are a more cost-effective option especially in sizes less than 1/2". Hastelloy C22 fasteners and flanges are best known for its resistance to pitting and crevice corrosion – which is unmatched in the high performance nickel alloy class. Use of C22 fasteners should be limited to temperatures below 1250°F due to the formation of detrimental phases which form above this temperature.
Availability: Hastelloy C22 fasteners are generally available in 1/2" sizes and larger due to materials availability. Most C22 fasteners are made to order.
Corrosion Performance
Key Benefits
Alloy C-22 has outstanding resistance to pitting, crevice corrosion and stress-corrosion cracking
Extremely high protection from wet chlorine environments
Excellent resistance to a wide variety of chemical process environments including strong oxidizers such as ferric acids, acetic anhydride, hot contaminated media (organic and inorganic), and seawater and brine solutions
Similar overall corrosion protection compared to C276
Very ductile, exhibits excellent weldability
Welding
Alloy C22 is considered the best alloy to use as universal weld filler metal to resist corrosion of weldments. These C22 fasteners and flanges will resist the formation of grain boundary precipitates in the weld heat zone, which make them ideal most chemical process applications in the welded condition.
Uses
Hastelloy C22 fasteners and flanges protect extensively against the most corrosive flue gas desulfurization systems and the most sophisticated pharmaceutical reaction vessels
Chemical process industries depend on C22 fasteners for use in equipment like flue gas scrubbers, chlorination systems, sulfur dioxide scrubbers, pulp and paper bleach plants, pickling systems, and nuclear fuel reprocessing
Resources: Hastelloy Torque Spec, Flange Dimensions, Flange Bolting Chart
Hastelloy Fastener Types: Bolts, Nuts, Screws, Studs, Threaded Rods, Washers
Flange Types Available: Blind Flanges, Lap Joint Flanges, Slip On Flanges, Socket Weld Flanges, Threaded Flanges, Weld Neck Flanges
---
Hastelloy C22 Fastener & Flange Grades and Chemistry
C22 alloy, UNS N06022, is a nickel alloy with better overall corrosion resistance in oxidizing corrosives than C-276 and Inconel 625 alloys due to its higher chromium content. Outstanding resistance to localized corrosion and excellent resistance to stress corrosion cracking. This alloy has limited availability and can be made into fastener in larger diameters only (1/2" and greater in size).
Hastelloy C22 Specifications: SB 575/B 575, SB 574/B 574, SB 366/B 366 SB 462/B 462, SB 564/B 564 SB 462/B 462, 17744 No. 2.4602 NiCr21Mo14W, NACE MR0175 ISO 15156, Werkstoff 2.4602

---
MECHANICAL PROPERTIES OF HASTELLOY

---
Hastelloy Corrosion Data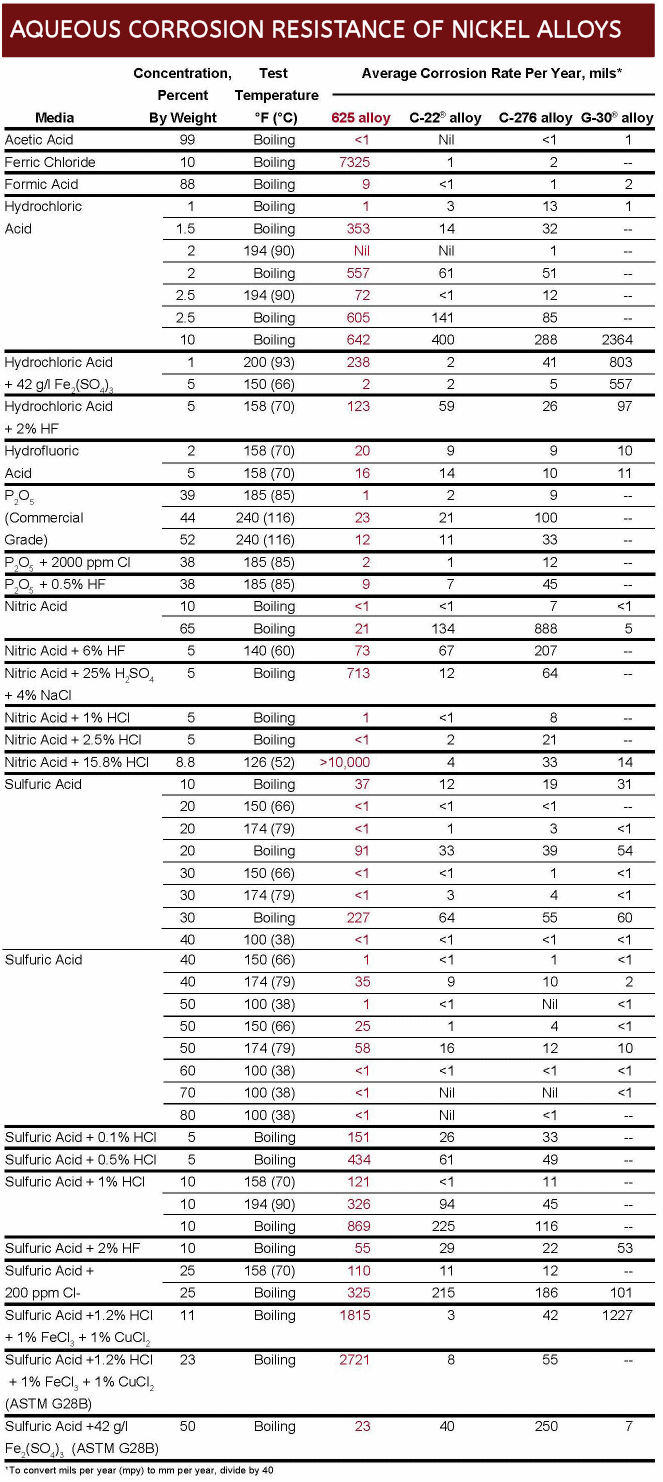 ---
Hastelloy C22 Sulfuric Acid Corrosion Performance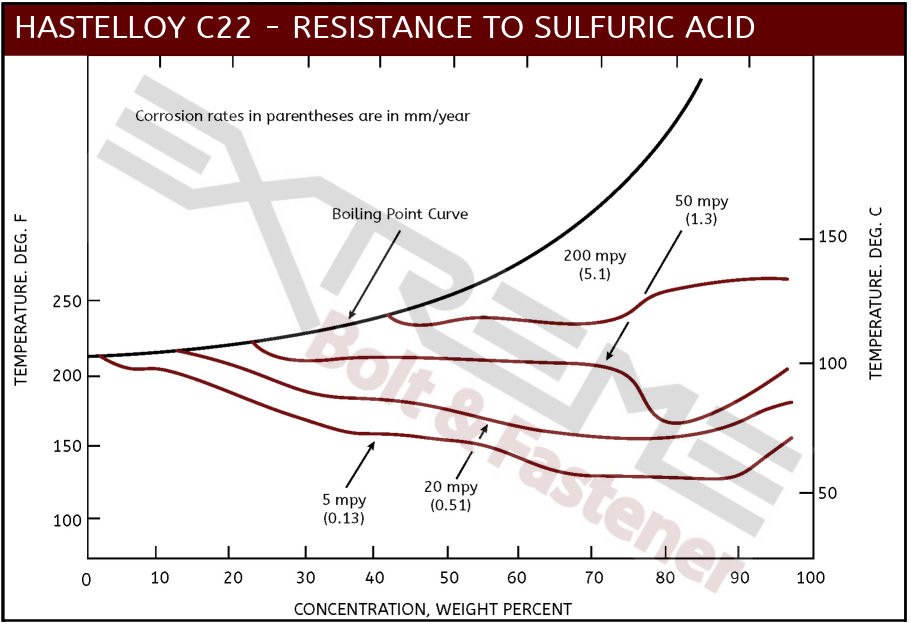 ---
Hastelloy C22 Hydrochloric Acid Corrosion Performance

---
Hastelloy C22 Nitric Acid Corrosion Performance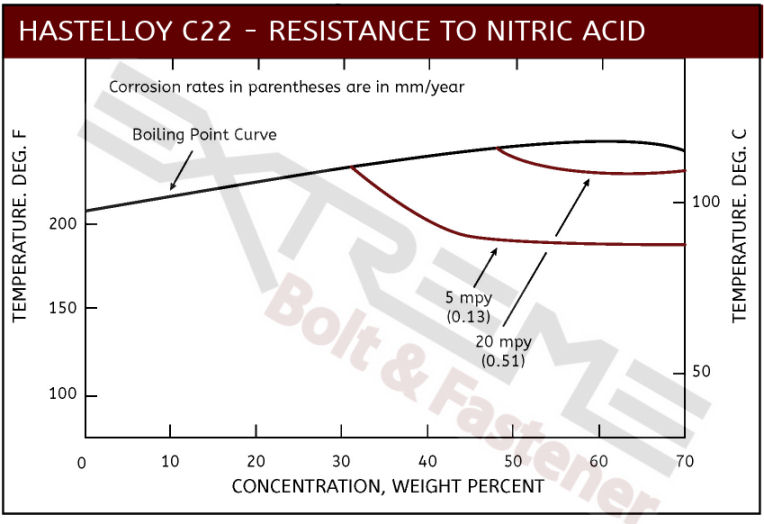 ---
Hastelloy C22 Phosphoric Acid Corrosion Performance