Improved corrosion resistance to Incoloy 800, same high temp stability
Related to the Incoloy 800 series alloys, this specialty nickel alloy differentiates itself with the additional elements of molybdenum and copper, which provides it improved corrosion resistance – specifically pitting and crevice corrosion, as well as reducing environments. In addition to its strength and corrosive properties, it also offers good weldability by all conventional processes. Learn more by downloading our Incoloy datasheet.
Corrosion Resistance
Primary corrosive environments where Incoloy flanges are most useful are sulfuric acid, phosphoric acid, sulfur-containing flue gases, sour gas and oil wells, and sea water.
Improved resistance to aqueous corrosion compared to Incoloy 800
Excellent resistance to both reducing and oxidizing acids
Especially resistant to sulfuric and phosphoric acids
Good resistance to chloride stress-corrosion cracking, as well as pitting and crevice corrosion
Good resistance to a variety of oxidizing substances such as nitric acid, nitrates and oxidizing salt
Good resistance to stress-corrosion cracking in neutral chloride media.
Gain a better understanding of Incoloy 825's corrosion performance in:
Temperature Guidelines
Alloy 825 flanges have good mechanical properties from cryogenic temperatures to moderately high temperatures up to approximately 1000° F. When used at temperatures above 1000° F microstructural changes will occur that significantly lower ductility and impact strength.
Applications
Chemical processing utilizes Incoloy 825 flanges for their resistance to sulfuric and phosphoric acid which makes it useful in acid production and pickling.
Nuclear relies on these flanges for fuel reprocessing, fuel element recovery and radioactive waste handling.
Resistant to both localized and general corrosion, Incoloy also plays a role in a broad range of additional industries including pollution control and oil & gas.
Incoloy 825 Physical Properties
Density: 0.294 lbs/in³, 8.14 g/cm³
Specific Heat, (32-212°F),Btu/lb•°F, (0-100°C), J/kg•°C: 0.105 (440)
Mean Coefficient of Thermal Expansion: in/in/°F (mm/m/°C): 70- 212°F (20- 100°C): 7.7 x 10-6 (13.9)
Thermal Conductivity BTU/h-ft-°F (W/m-°K): 70°F (21°C): 6.4 (11.1)
Modulus of Elasticity, ksi (MPa): 28.4 x 10³ (196 x 10³) in tension
Melting Range: 2500-2550°F (1370-1400°C)
Incoloy 825 Strength Properties
Ultimate Tensile Strength: 100 KSI min (690MPa min)*
Yield Strength: (0.2% offset) 47KSI min (324MPa min)*
Elongation: 45%*
*Annealed, Typical at room temperature
Resources: Incoloy Torque Specs, Flange Dimensions, Flange Bolting Chart
Incoloy Fastener Types: Bolts, Nuts, Screws, Threaded Rods, Washers
Flange Types Available: Blind Flanges, Lap Joint Flanges, Slip On Flanges, Socket Weld Flanges, Threaded Flanges, Weld Neck Flanges
---
Incoloy 825 Chemistry and Specifications
Incoloy 825 Specifications: UNS N08825, , BS 3076NA16, ASTM B 425, ASTM B 564, ASME SB 425, ASME SB 564, ASME Code Case N-572, DIN 17752, DIN 17753, DIN 17754, VdTÜV 432, ISO 9723, ISO 9724, ISO 9725, Werkstoff Nr 2.4858

---
Incoloy 825 Mechanical Properties
---
Incoloy 825 Sulfuric Acid Iso-Corrosion Curve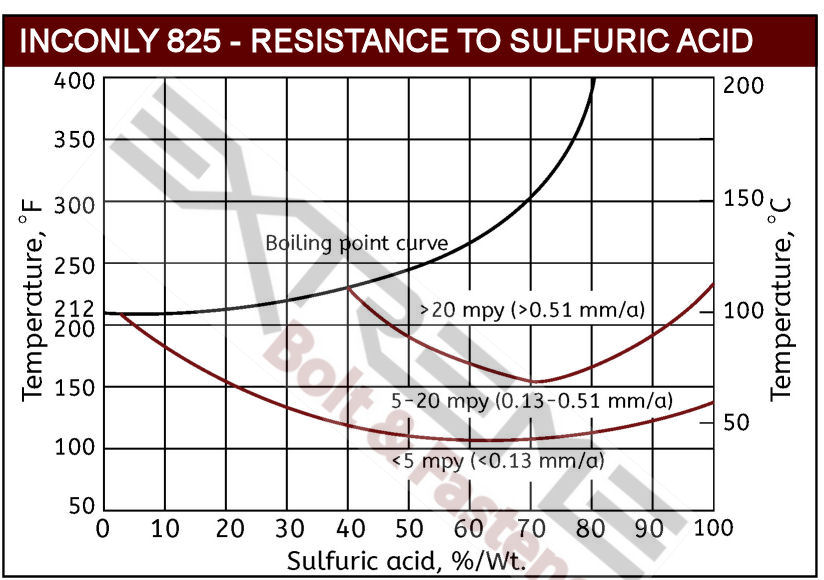 ---
Incoloy 825 Hydrochloric Acid Iso-Corrosion Curve