Unique for its strength, lightness of weight and corrosion resistance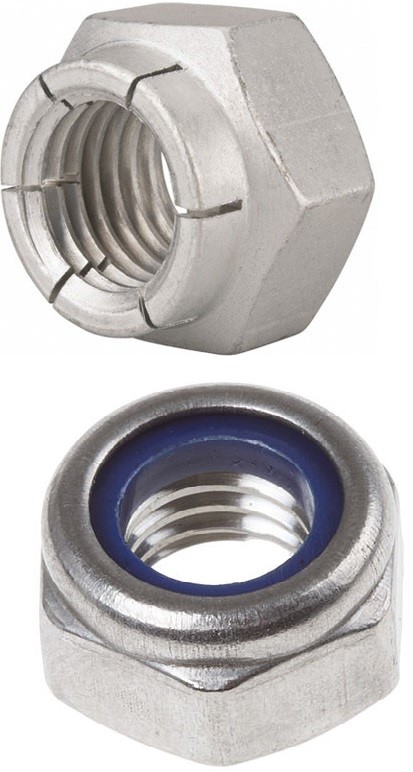 Titanium lock nuts are best known for being strong, lightweight and corrosion resistant. One property that stands out when compared to other metal nuts is that titanium nuts have the highest strength-to-weight ratio with a density of 4.51 g /cm3. As an example, titanium grade 5 is 4 times stronger than 316 stainless steel at nearly half the weight. This makes titanium lock nuts ideal for applications that require both lightness of weight and excellent strength such as oil & gas (down-hole), military and sporting goods.
Titanium lock nuts are also unique among metals in the chemical processing industry for handling chlorine (wet) and chlorine compounds in aqueous solutions. Titanium nuts are fully resistant to solutions of chlorides, hypochlorites, chlorates, perchlorates and chlorine dioxide. As a result titanium lock nuts are often using within the chlorine related industries such as pulp and paper and chlor-alkali / bleach.
Titanium lock nuts are also an excellent material to prevent seawater corrosion. Because titanium nuts can resists corrosion by seawater up to temperatures as high as 500°F (260°C) as well as survive at ocean depths over a mile below the surface, titanium nuts are used throughout the oil & gas, desalination and marine industries.
The most common grades of Titanium lock nuts are Grade 2 and Grade 5. Gain more insight on these by accessing our Grade 2 and Grade 5 overviews or by contacting our engineering experts.
Resources: Titanium Torque Specs
---
Titanium Locknut Features and Beneifts
A titanium locknut resists loosening from vibrations and torque. One of the most common styles is a prevailing torque locknut. This kind of titanium locknut has a prevailing torque feature which deforms elastically, preventing it from freely spinning like a standard nut.
The two most common and reliable forms of prevailing torque locknuts are the flexloc style and the polymer insert lock nut. A titanium flexloc nut is all-metal in composition with a segmented collar that creates six "locking fingers," that act as a spring. Titanium polymer insert lock nuts are often referred to as nylon insert locknuts, although various high performance polymers can be used for the screw threads to "bite into." Both flexlock and polymer insert locknuts are available in both hexagonal and 12 point configurations.
All Metal Flexloc Lock Nut

Polymer/Nylon Insert Lock Nut

Can be used at high temperatures
Distributes load evenly due to the fact that it is manufactured as one solid piece.
Is THE most reliable all-metal self-locking nut.
As it is all metal, it is best for high temperature or corrosive applications
One of the only all-metal lock nuts that is certified to 15 cycles of prevailing torque – which is military standard.

Overall the most reliable locknut, with the only limitation of application temperature
Best for low temp applications, typically less than 350°F
Various polymers inserts available (Nylon, Vespel, PVDF, etc.) for higher temp. or corrosive applications.
Excellent reusability – can reliably be re-used 15 times
Eliminates galling and cold-welding common with exotic alloys
Other all metal lock nuts available include the titanium stover and elliptical styles. Though these styles are often a cheaper initial cost, they are less reliable than the flexloc style. As these styles delivering less prevailing torque cycles and often result in more failures, the flexloc style is a better investment for both reliability and cost savings.
---
Titanium Grades, Chemistry & Specifications
Titanium Grade 2 (Commercially Pure)
Unalloyed titanium; Commercially pure titanium is the most common grade of titanium utilized throughout industry due to its ease of availability and good properties.
Titanium Grade 2 Specifications: UNS R50400, ASTM B 348, AMS 4921, ASTM F 67, ISO 5832-2, Werkstoff 3.7035

Titanium Grade 5 (Ti 6Al-4V)
Known as the "workhorse" of the titanium alloys, Ti 6Al-4V, or Grade 5 titanium, is 2x stronger than titanium grade 2. This alloy offers high strength and light weight, useful formability and high corrosion resistance. Ti 6AI-4V finds many uses in the aerospace, medical, marine and chemical processing industries.
Titanium Grade 5 Specifications: ASTM - B265, B348, B381, B861, F467 and F468, AMS - 4911, 4928, 4935, 4965 and 4967, MIL-T - 9046 and - 9047, Werkstoff 3.7165
Titanium Grade 7
Grade 7 is the most corrosion resistant of all titanium alloys and is typically used in chemical processes and production equipment components. Similar to Grade 2, but with the addition of 0.12 to 0.25% palladium, Grade 23 has enhanced corrosion resistance to reducing acids and localized attack in hot halides.
Titanium Grade 7 Specifications: ASTM - B265, B337, B338, B348, B363, B381, B861 and B862, Werkstoff 3.7235
Titanium Grade 23 (TI 6AL-4V ELI)
Titanium grade 23 or TI 6AL-4V ELI is an Extra Low Intersticial grade. This grade is similar to Grade 5, but because of the low intersticials, its mechanical properties are enhanced. This ELI grade is often found in more demanding medical device applications as well as industrial applications.
Titanium Grade 23 Specifications:
ASTM - B265, B348, B363, B381, B861, B862 andF136, AMS - 4907, 4930 and 4956

Other titanium grades are also available upon request.
---
Mechanical Properties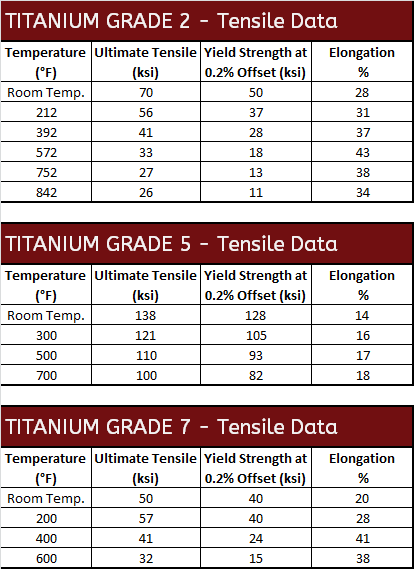 ---
Titanium's Resistance to Chlorine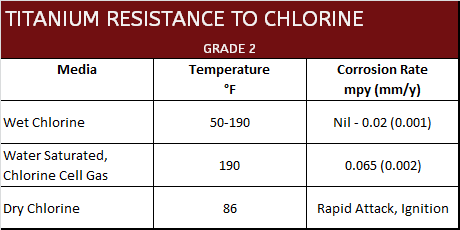 ---
Corrosion Data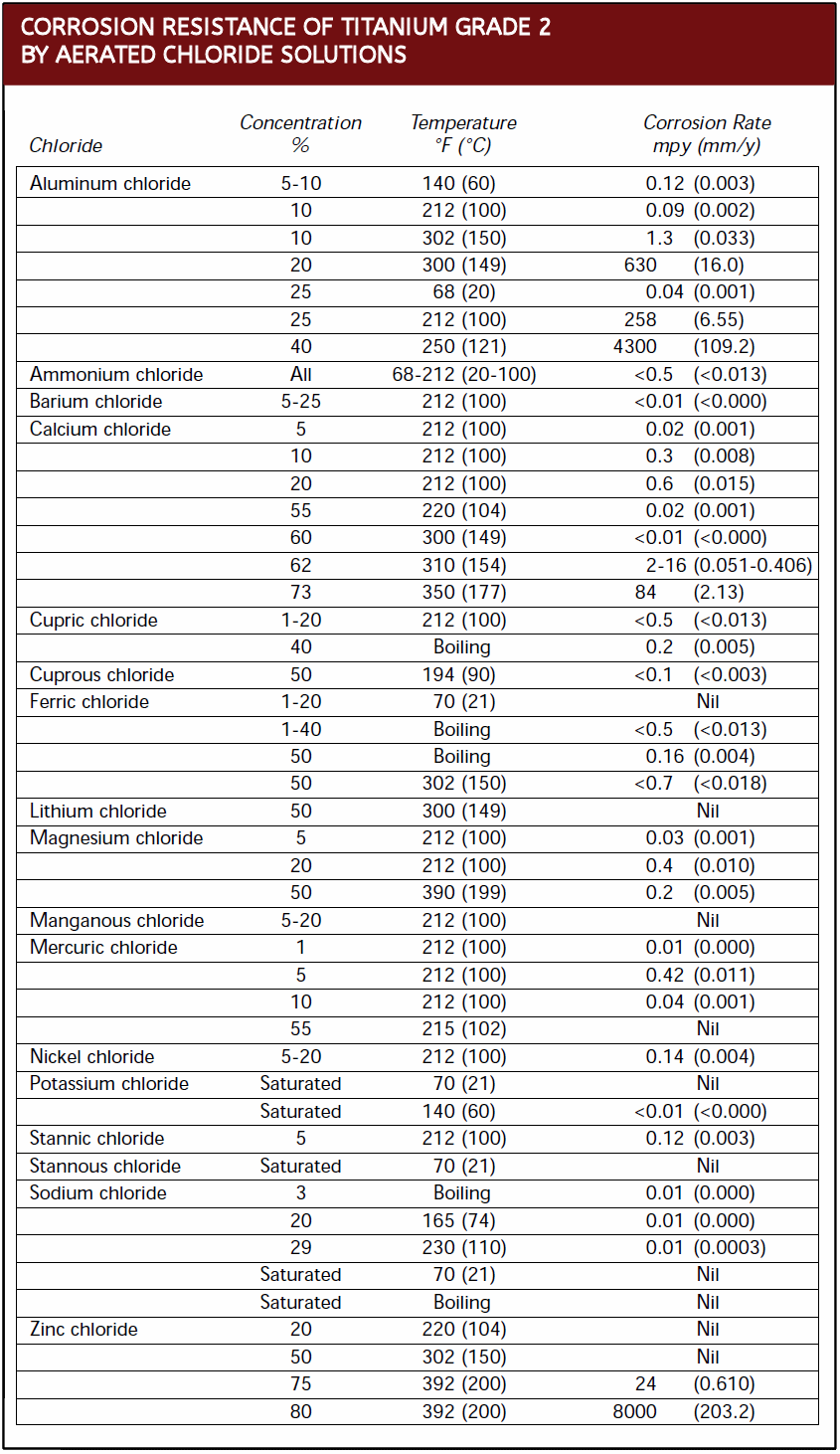 ---
Titanium Grade 5 Temperature vs. Strength