Eine Ni-Cr-Legierung, die für ihre Korrosionsbeständigkeit und hohe Temperaturstabilität bekannt ist
Inconel®-Verbindungselemente und -Flansche aus Inconel 600, 601, 625, 686, 718, 725 und X750 sind eine Familie von Nickel-Chrom-Molybdän-Legierungen, die aufgrund ihrer hohen Festigkeit bei erhöhten Temperaturen und ihrer guten Korrosionsbeständigkeit verwendet werden. Aufgrund seiner hohen thermischen Stabilität kann Inconel bei Betriebstemperaturen von kryogen bis 982 ° C eingesetzt werden. Der hohe Legierungsgehalt von Inconel-Befestigungselementen und -Flanschen ermöglicht es, einer Vielzahl von stark korrosiven Umgebungen standzuhalten. In milden Umgebungen wie Atmosphäre, Meerwasser, neutralen Salzen und alkalischen Medien werden Inconel-Befestigungselemente und -Flansche fast nicht angegriffen. In stärker korrosiven Umgebungen bietet die Kombination von Nickel und Chrom Beständigkeit gegen oxidierende Chemikalien, während der hohe Gehalt an Nickel und Molybdän Beständigkeit gegen nicht oxidierende Umgebungen bietet.
Da Inconel-Verbindungselemente und -Flansche ein ausgewogenes Verhältnis zwischen Korrosionsbeständigkeit, Temperaturstabilität, Zähigkeit und Festigkeit bieten, sind sie häufig das Material der Wahl für die chemische Verarbeitung, Luft- und Raumfahrt, Schifffahrt, Elektronik sowie Öl und Gas Industrie.
Die gängigsten Arten von Befestigungselementen und Flanschen aus Inconel-Nickellegierungen sind Inconel 625 und Inconel 718. Erfahren Sie mehr über diese beiden Arten, indem Sie auf unsere Umfragen zu Inconel 625 und Inconel 718 zugreifen oder sich an unsere technischen Experten wenden.
Hilfsquelle: Inconel Torque Spec, Flange Dimensions, Flange Bolting Chart, Inconel 625, Inconel 718
Ioncnel Verbindungsteile: Bolts, Nuts, Screws, Threaded Rods, Washers
Verfügbare Flansche Arten: Blind Flanges, Lap Joint Flanges, Slip On Flanges, Socket Weld Flanges, Threaded Flanges, Weld Neck Flanges
---
Gängige Qualitäten für Inconel-Verbindungselemente
Inconel 600
Die Legierung Inconel 600 (2.4818), UNS N06600, ist eine Nickel-Chrom-Legierung mit einer guten Beständigkeit gegenüber Aufkohlung und einer guten Oxidationsbeständigkeit bei ca. 1100 °C (2000 ° F). Die Legierung wird seit langem in der Wärmebehandlungsindustrie verwendet. Inconel 600 weist eine nützliche Beständigkeit gegen trockene Cl 2 - und HCl-Gase bei mäßig erhöhten Temperaturen auf.
Inconel 600 Specifikationen: AMS 5540, AMS 5665, ASME SB 166, ASME SB 167, ASME SB 168, ASTM B 166, ASTM B 167, ASTM B 168, EN 2.4816, UNS N06600, Werkstoff 2.4816

Inconel 601
Die Legierung Inconel 601 (2.4851), UNS N06601, ist selbst unter starken Temperaturwechselbedingungen sehr oxidationsbeständig bis 1200 °C (2200 ° F). Die Legierung hat eine gute Hochtemperaturfestigkeit und behält ihre Duktilität nach langer Betriebsdauer bei. Die Inconel 601-Legierung weist unter oxidierenden Bedingungen eine gute Heißkorrosionsbeständigkeit auf.
Inconel 601 Specifikationen: AMS 5715, AMS 5870, ASME SB 167, ASME SB 168, ASTM B 167, ASTM B 168, EN 2.4851, UNS N06601, Werkstoff 2.4851

Inconel 625
Die Legierung Inconel 625 (2.4856), UNS N06625, ist das Arbeitstier der Inconel-Familie und eine der am häufigsten verwendeten Sorten. Sie weist eine hohe Kriechbruchfestigkeit auf und ist oxidationsbeständig bis 982 °C (1800 °F). Inconel 625 weist eine hervorragende Beständigkeit gegenüber heißem Meerwasser auf, sowie im Einsatz mit Gaswäschern und reduzierende Säuren. Diese Legierung widersteht einer Vielzahl stark korrosiver Umgebungen und ist besonders beständig gegen Lochfraß und Spaltkorrosion.
Inconel 625 Specifikationen: AMS 5666, AMS 5837, ASME SB 443 Gr 1, ASME SB 446 Gr 1, ASTM B 443 Gr 1, ASTM B 446 Gr 1, EN 2.4856, ISO 15156-3, NACE MR0175-3, UNS N06625, Werkstoff 2.4856
Inconel 686
Die Legierung Inconel 686 (2.4606), UNS N06686, wurde für hervorragende Korrosionsbeständigkeit in einer Vielzahl von rauen Umgebungen entwickelt. Die Legierung wird in den schwierigsten Umgebungen eingesetzt, die bei der chemischen Verarbeitung, der Kontrolle der Umweltverschmutzung, der Zellstoff- und Papierherstellung und der Behandlung von Industrie- und Siedlungsabfällen auftreten.
Inconel 686 Specifikationen: ASTM B 462, ASTM B 564 / ASME SB 564, ASTM B 574 / ASME B 574, DIN 17752, DIN 17753, DIN 17754

Inconel 718
Inconel 718, UNS N07718, is the most common grade of the hardenable Inconels. This precipitation-hardened nickel-chromium alloy combines outstanding corrosion resistance and high strength at elevated temperatures. The alloy is a about 2x as strong as Inconel 625 having excellent creep-rupture strength at temperatures to 1300°F (700°C) and usable up to 1800°F (982°C). Inconel 718 is often used in gas turbines, rocket motors, spacecraft, nuclear reactors, pumps, and tooling.
Inconel 718 Specifikationen: AMS 5596, AMS 5662, AMS 5663, AMS 5832, ASME Case 2222-1, ASME SFA 5.14, ASTM B 637, ASTM B 670, EN 2.4668, GE B50TF14, GE B50TF15, UNS N07718, Werkstoff 2.4668

Inconel 725
Die Legierung Inconel 718 (2.4668), UNS N07718, ist die gebräuchlichste Qualität der härtbaren Inconels. Diese ausscheidungsgehärtete Nickel-Chrom-Legierung kombiniert hervorragende Korrosionsbeständigkeit und hohe Festigkeit bei erhöhten Temperaturen. Die Legierung ist etwa 2x so stark wie Inconel 625 mit seiner ausgezeichneten Kriechbruchfestigkeit bei Temperaturen bis 700 ° C (1300 ° F) und ist bis 982 ° C (1800 ° F) verwendbar. Inconel 718 wird häufig in Gasturbinen, Raketenmotoren, Raumfahrzeugen, Kernreaktoren, Pumpen und Werkzeugen eingesetzt.
Incone X750
Legierung Inconel 725, UNS N07725, ist eine Nickel-Chrom-Molybdän-Niob ausgehärtete Legierung, die im Wesentlichen die gleiche Korrosionsbeständigkeit wie Inconel 625 aufweist, deren Festigkeit jedoch doppelt so hoch ist wie die von weichgeglühtem Inconel 625. Die Festigkeit dieser Legierung wird durch Wärmebehandlung entwickelt, um eine hohe Duktilität und Zähigkeit zu erreichen. Die Legierung ist auch beständig gegen Wasserstoffversprödung und Spannungsrisskorrosion.
Inconel X750 Specifikationen: ASTM B 637/ASME SB 637; ISO 9723-9725; SAE AMS 5667-5671 and 5747; EN 10269

---
Mechanische Eigenschaften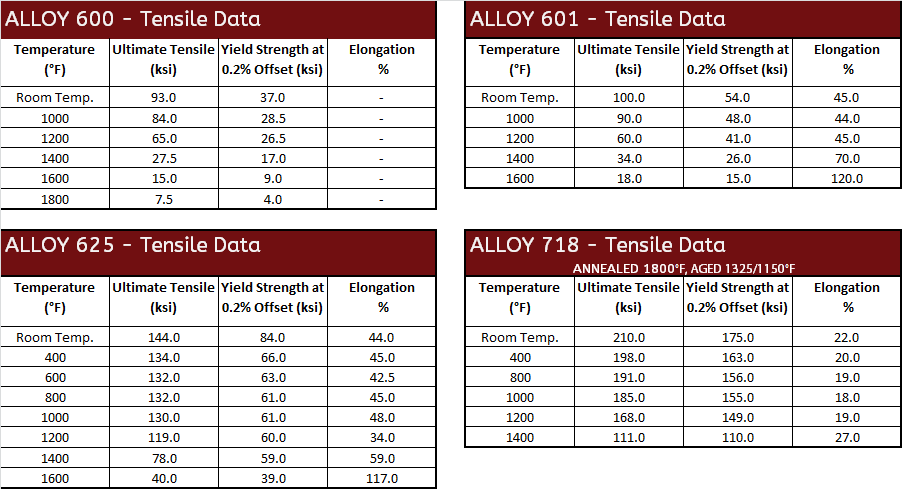 Inconel 718
Stärken der Wärmebehandlung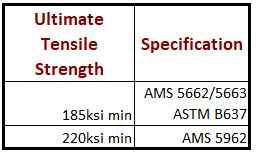 Inconel Korrosionsdaten