Outstanding chemical resistance at elevated temperatures
Virtually inert to most organics, acids and bases
Usable up to 260°C / 500°F but weakens significantly
Excellent electrical insulator
High purity for sensitive pharmaceutical and food type applications
Threaded flange features and benefits
PTFE threaded flanges are made from the fluoropolymer polytetrafluoroethylene and are known for being exceptionally corrosion resistant and inert at elevated temperatures. PTFE threaded flanges are inert to most chemical environments including organics, acids, bases, mixed chemicals and hyrdofluoric acid. Additionally PTFE threaded flanges are bio-inert and will not leach into or contaminate sensitive pharmaceuticals or food based products.
Compared to other high performance polymer threaded flanges like PEEK or PVDF, PTFE threaded flanges offer the best all-around corrosion resistance especially at elevated temperatures. However the trade-off for its extraordinary corrosion resistance is the lower tensile strength compared to PVDF or PEEK threaded flanges.
Resoures: Flange Dimensions, Flange Bolting Chart
Flange Types Available: Blind Flanges, Threaded Flanges
---
Mechanical Data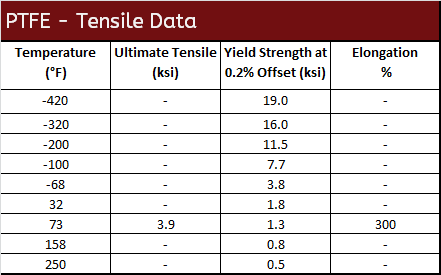 ---
PTFE Properties

---
PTFE Threaded Flange Features & Benefits

PTFE threaded flanges have a tapered female thread to join the male threads of a pipe in order to create a tight seal. This type of flange is most ideal when post weld heat treatment is not possible in hazardous, flammable or explosive applications where welding is too dangerous. PTFE threaded flanges are also convenient in pilot processes whose configuration is often changed.
Threaded Flange Advangtages
The main benefit is that that threaded seal eliminates the need for welding.
As they do not require welding they save time and money to install.
Allow for connections to be made in dangerous, explosive applications where welding is not possible.
Useful connection in materials that are difficult to create a successful and strong weld.
Ideal for connecting small diameter pipes.
Systems could be easily reconfigured.
Threaded Flange Disadvantages
They are not suitable where high temperatures, frequent cyclic conditions or bending stresses are likely in applications.