The optimal balance of chemical, mechanical and thermal properties
PEEK set screws (chemically known as Polyetheretherketone) offer a unique combination of properties for some of the most extreme applications. PEEK is classified as semicrystalline thermoplastic and high purity polymer, offering excellent mechanical strength and chemical resistance at high temperatures. PEEK set screws offer a high strength alternative to PTFE fluoropolymers.
Key Benefits
Excellent resistance to thermal degradation (chemical decomposition caused by heat).
Chemically resistance to many oils, alcohols, solvents, and organics as well as harsh acids and bases in low concentrations and temperatures.
Hydrolysis resistance provides PEEK ability to retain all physical properties when continuously exposed to water or steam at high temperatures and pressures, as well as offer very low moisture absorption.
Outstanding creep resistance allows PEEK screws to sustain large stresses over long service life.
Ability to withstand frequent sterilization processes.
V-0 flammability rating with low smoke and toxic gas emission when exposed to flame.
Good wear and abrasion resistance.
Electrical properties are maintained over a wide frequency and temperature range.
Radiation resistance allows PEEK to be used in or be repeatedly sterilized by, high doses of ionizing radiation.
Options for High Strength
Depending on the application, PEEK set screws can be reinforced with glass or carbon fibers for improved strength and stiffness properties. Reinforced PEEK set screws offer greater mechanical robustness especially in applications beyond 350°F (175°C).
Applications
Viewed by the medical community as an advanced biomaterial, PEEK set screws are used in medical implants and are compatible with a high-resolution magnetic resonance imaging (MRI)
PEEK screws are one of the few plastics compatible with ultra-high vacuum (UHV) which is necessary for many analytic techniques and particle accelerators.
Chemical processing and pharmaceutical applications depend on PEEK for it's chemical resistance, high purity and ability to withstand sterilization processes.
PEEK set screws are used in many electronics from cell phones to circuit boards for their lightweight strength and reduced noise, vibration and harshness (NVH).
Set screws made from customer specified PEEK grades are available upon request.
Screw Types: Flat Head Screws, Hex Cap Screws, Pan Head Screws, Set Screws, Socket Head Cap Screws
---
PEEK Set Screw Features & Benefits
PEEK set screws are unique in that they have no screw head, meaning that they have no protruding part past the threaded shaft. They are thread only and are available with a socket or slotted driver insert at one end. Set screws are used to secure an object within or against another object. Typically they secure a rotating part such as a gear or shaft. PEEK set screws are driven through a threaded hole in the rotating part until it is tight against the inner object, preventing from moving relative to the outer object. Set screws are available with various points depending on the application.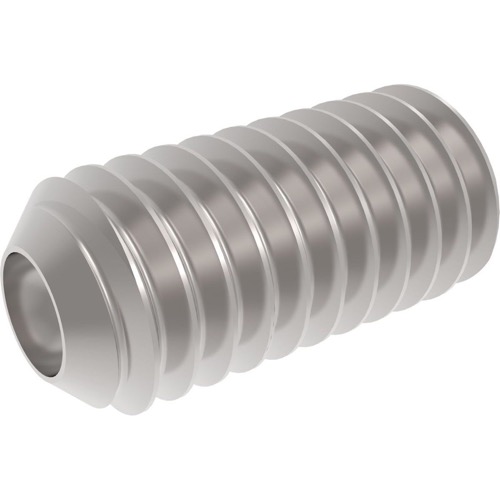 Cup Point
This is the most commonly used set screw and is identified by a cup-shaped indentation on one end. PEEK cup points are typically used for a quick, semi-permanent or permanent applications where it is acceptable to cut the cup point edge of the screw.
Cone Point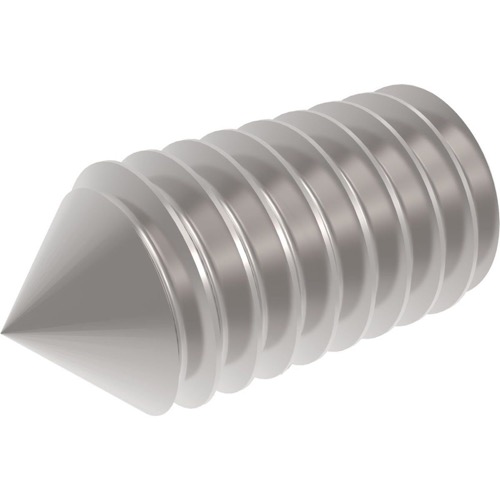 A cone point is easily identifiable by its sharp cone-shaped point – just like an ice cream cone. PEEK cone point set screws deliver the strongest clamping force due to the deep penetration of the point. As a result they are used for permanent assembly.
Flat Point
The cheapest and simplest of the set screw point styles, this screw has a flat surface on the bottom of the screw. This type is used when you need the ability to frequently change parts and require minimal shaft deformation.
---
Common PEEK Screw Grades
PEEK 100% / Unfilled
PEEK, with no fillers is unreinforced and 100% polymer. Even without glass or carbon fiber reinforcement, this one of the strongest polymers we offer and well suited for a variety of applications including FDA food contact and other applications requireing high purity.
PEEK Glass Fiber Reinforced
PEEK 30% Glass Fiber Reinforced provide the same chemical resistance and natural PEEK but nearly doubles in tensile strength.
PEEK Carbon Fiber Reinforced
PEEK 20% Carbon Fiber Reinforced provides approximately 2.5 times the strength of pure PEEK.
PEEK Extreme
PEEK Extreme is our proprietary receipe for the highest strength PEEK utilizing carbon fiber reinforcement. This version of PEEK over 3 times stronger than standard unreinforced PEEK.
---
Mechanical Properties of PEEK
---
Chemical Resistance of PEEK / Victrex® Screws
---
PEEK Properties