Outstanding chemical resistance at elevated temperatures
Virtually inert to most organics, acids and bases
Usable up to 260°C / 500°F but weakens significantly
Excellent electrical insulator
High purity for sensitive pharmaceutical and food type applications
Material datasheet for PTFE
PTFE flat head screw features and benefits
PTFE flat head screws are made from the fluoropolymer polytetrafluoroethylene and are known for being exceptionally corrosion resistant and inert at elevated temperatures. PTFE screws are inert to most chemical environments including organics, acids, bases, mixed chemicals and hyrdofluoric acid. Additionally PTFE flat head screws are bio-inert and will not leach into or contaminate sensitive pharmaceuticals or food based products.
Compared to other high performance polymer screws like PEEK or PVDF, PTFE screws offer the best all-around corrosion resistance especially at elevated temperatures. However the trade-off for its extraordinary corrosion resistance is the lower tensile strength compared to PVDF or PEEK flat head screws.
Screw Types: Flat Head Screws, Hex Cap Screws, Pan Head Screws, Set Screws, Socket Head Cap Screws
---
PTFE Flat Head Screw Features and Benefits
PTFE flat head screws are characterized by having a head with a top flat surface (which can feature either a slotted, phillips or allen driver) and bottom that is cone shaped or countersunk. With this design, the head of the screw can align flush or below the surrounding surface having obvious benefits.
PTFE Slotted vs. Phillips Driver
Slotted Head Advantages

Phillips Head Advantages

Slotted head screws tend to strip less than Philips, especially in harsh environments

Slotted heads are typically better in applications where it's going to be unscrewed and re-done periodically, as the head tends to wear less.

In dirty environments, a flat head is much easier to clean out

Phillips head offers a much stronger joint since it can tolerate more torque.
Countersink Angle
For most flat head screw designs the angle of countersink is usually 82° for UNC and UNF applications however other angles ranging from 60° -120° could be specified.
| | |
| --- | --- |
| Thread Type | Normal Flat Head Countersink Angle |
| UNC / UNF | 82° |
| Aerospace | 100° |
| ISO Metric / Imperial | 90° |
---
Mechanical Data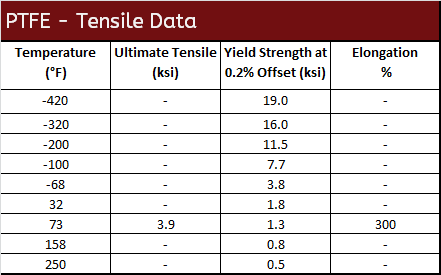 ---
PTFE Properties