Outstanding chemical resistance at elevated temperatures
Virtually inert to most organics, acids and bases
Usable up to 260°C / 500°F but weakens significantly
Excellent electrical insulator
High purity for sensitive pharmaceutical and food type applications
Material datasheet for PTFE
PTFE set screw features and benefits
PTFE set screws are made from the fluoropolymer polytetrafluoroethylene and are known for being exceptionally corrosion resistant and inert at elevated temperatures. PTFE screws are inert to most chemical environments including organics, acids, bases, mixed chemicals and hyrdofluoric acid. Additionally PTFE set screws are bio-inert and will not leach into or contaminate sensitive pharmaceuticals or food based products.
Compared to other high performance polymer screws like PEEK or PVDF, PTFE set screws offer the best all-around corrosion resistance especially at elevated temperatures. However the trade-off for its extraordinary corrosion resistance is the lower tensile strength compared to PVDF or PTFE screws.
Screw Types: Flat Head Screws, Hex Cap Screws, Pan Head Screws, Set Screws, Socket Head Cap Screws
---
PTFE Set Screw Features & Benefits
PTFE set screws are unique in that they have no screw head, meaning that they have no protruding part past the threaded shaft. They are thread only and are available with a socket or slotted driver insert at one end. Set screws are used to secure an object within or against another object. Typically they secure a rotating part such as a gear or shaft. PTFE set screws are driven through a threaded hole in the rotating part until it is tight against the inner object, preventing from moving relative to the outer object. Set screws are available with various points depending on the application.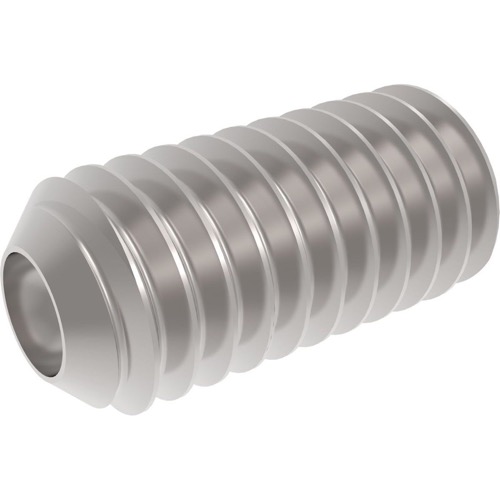 Cup Point
This is the most commonly used set screw and is identified by a cup-shaped indentation on one end. PTFE cup points are typically used for a quick, semi-permanent or permanent applications where it is acceptable to cut the cup point edge of the screw.
Cone Point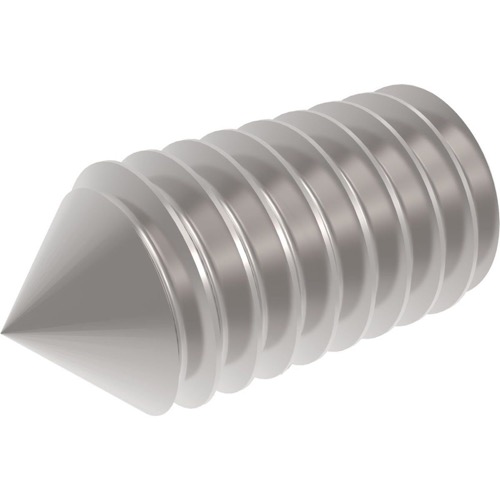 A cone point is easily identifiable by its sharp cone-shaped point – just like an ice cream cone. PTFE cone point set screws deliver the strongest clamping force due to the deep penetration of the point. As a result they are used for permanent assembly.
Flat Point
The cheapest and simplest of the set screw point styles, this screw has a flat surface on the bottom of the screw. This type is used when you need the ability to frequently change parts and require minimal shaft deformation.
---
Mechanical Data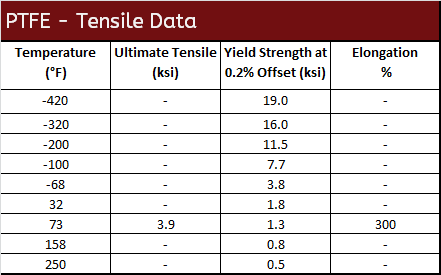 ---
PTFE Properties