A superb corrosion resistance, temperature stability and non-conductivity

Zirconia ceramic set screws are the most thermally resistant screws available. Due to their outstanding thermal resiustance, zirconia ceramic screws are geared for the most demanding high temperature applications. Zirconia ceramic set screws also have outstanding corrosion resistance and are highly chemically resistant to acids, solvents, and salts. Additionally, zirconia ceramic screws find many uses in high voltage applications due to their non-conductive electrical properties.
Zirconia ceramic set screws are available with a slotted driver in both metric and standard sizes. Please contact us if you have any questions about the properties or availability of our ceramic screws.
Screws made from customer specified ceramic grades or custom dimensions are available upon request.
Screw Types: Flat Head Screws, Hex Cap Screws, Pan Head Screws, Set Screws, Socket Head Cap Screws
---
Zirconia Set Screw Features & Benefits
Zirconia set screws are unique in that they have no screw head, meaning that they have no protruding part past the threaded shaft. They are thread only and are available with a socket or slotted driver insert at one end. Set screws are used to secure an object within or against another object. Typically they secure a rotating part such as a gear or shaft. Zirconia set screws are driven through a threaded hole in the rotating part until it is tight against the inner object, preventing from moving relative to the outer object. Set screws are available with various points depending on the application.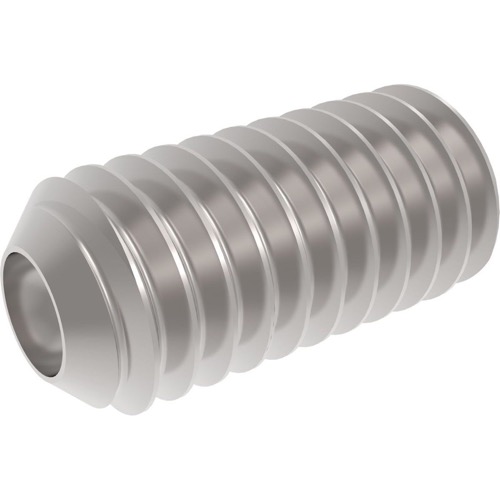 Cup Point
This is the most commonly used set screw and is identified by a cup-shaped indentation on one end. Zirconia cup points are typically used for a quick, semi-permanent or permanent applications where it is acceptable to cut the cup point edge of the screw.
Cone Point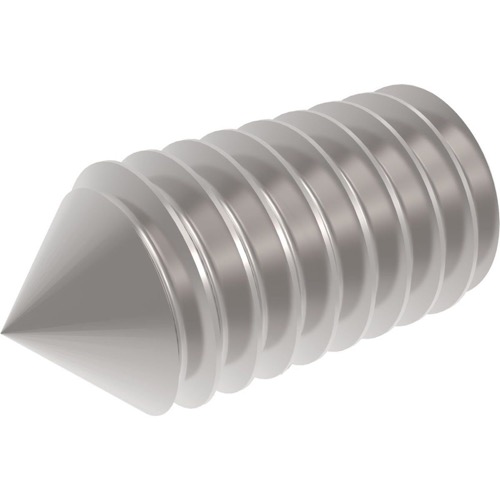 A cone point is easily identifiable by its sharp cone-shaped point – just like an ice cream cone. Zirconia cone point set screws deliver the strongest clamping force due to the deep penetration of the point. As a result they are used for permanent assembly.
Flat Point
The cheapest and simplest of the set screw point styles, this screw has a flat surface on the bottom of the screw. This type is used when you need the ability to frequently change parts and require minimal shaft deformation.
---
Common Ceramic Grades
Zirconia YSZ
Zirconia ceramic or Zirconium Oxide (ZrO2) is one of the most temperture stable materials available having a usable temperature range up to 3812°F (2100°C) and melting point at 4900°F (2700°C). This material is stabelized with yittria to prevent cracking and therefore designated as Yittria Stabilized Zirconia (YSZ). This grade is stronger, tougher and more thermally resistant than alumina.
Other grades are available upon request.
---
Alumina and Zirconia Properties
---
Corrosion Resistance of Common Ceramics