Gaskets unique for their strength, lightness of weight and corrosion resistance
JG/JP Gasket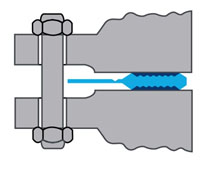 Parameters
Temp: Cryogenic to 1830

°

F / 1000°C

Pressure: Vacuum to 5800psi / 400bar

Pressure class: 1500 / PN400

Carrier metal: Stainless & Specialty alloys

Thickness: 0.098" to 0.394" (2.5 - 10mm)

Max dimension: 144in / 4000mm

Applications
Extreme pressure & temperatures

Corrosive media, H2, hazardous service

Replaces: Spiral Wound / Kammprofile

Advantages
Overview of Titanium Gaskets
Titanium gaskets are best known for being strong, lightweight, and corrosion resistant. They are critical to many industries including chlor alkali, marine, off-shore oil & gas, desalination, medical, and pulp and paper. Grade 2 and 5 are the most commonly used grades of titanium gaskets.
Titanium semi-metalic gaskets with a PTFE or graphite soft sealing material are available in the Revoseal JG / JP design which is usable in the most corrosive environments and has a pressure rating of from vacuum to 5800psi / 400bar. WIth a leak rate 15000x less than spiral wound gaskets, you can be sure that hazardous fumes and vapors will be conatained creating the safest work environment possible. Furthermore, our titanium gaskets are customizable and accomodate dissimilar flange faces and large gaps.
Corrosion Resistance
Saltwater
Perhaps the most notable attribute of titanium is its superior corrosion resistance to salt water / seawater. Titanium gaskets have the unique ability to rapidly regrow their protective passive layer in the presence of oxygen, giving them unparalleled resistance to salt water environments.
• Proven resistance in decades of polluted seawater
• Usable in ocean depths of a mile beneath the surface
• Resistant to high velocity, rapidly moving currents as well as stagnant seawater
• Not affected by the presence of sulfides in seawater
• Ideal for sea splash and tide zones
• Seawater resistant to temperatures as high as 500°F (260°C)
Chloride, Chlorine & Other Media
Similar to salt water, titanium's strong, protective oxide film which regenerates in oxygen makes it extremely resistant to oxidizing environments, and chlorides solutions, including hypochlorites, chlorates, perchlorates, sodium chlorite, and chlorine dioxide. This protection holds true as long as moisture is present – which can be as little as 50ppm of moisture. Oxidizing environments in the absence of water can cause titanium to rapidly corrode or even ignite. Titanium gaskets are not resistant to reducing media and acids (see chart).
Which Grade is Best for Your Application?
The most common grades of of Titanium gaskets are Grade 2. Still not sure? With decades of materials expertise and industrial experience, our engineers can help you select the best grade for your application.
---
Titanium Gasket Availability and Lead Time
Custom Availability
Titanium gaskets can be made to order in both standard and custom designs with normal lead time of approximately 4 weeks. Be sure to contact us for specific lead times and any expediting needs.
Titanium grades 2
Max dimension: 144in / 4000mm
Custom to print available
NACE MR0175, ASTM, ASME, DFAR and Domestic available
Expediting Options
Time critical? Just let us know! We have a large stock of grade 2 titanium gaskets, ready to ship and do our best to accommodate your needs.
---
Titanium Grades, Chemistry & Specifications
Titanium Grade 2 / UNS R50400 / 3.7035 (Commercially Pure)
Unalloyed titanium; Commercially pure titanium is the most common grade of titanium utilized throughout industry due to its ease of availability and good properties. Learn more about titanium grade 2.
Titanium Grade 2 Specifications: UNS R50400, ASTM B 348, AMS 4921, ASTM F 67, ISO 5832-2, EN 3.7035

---
Mechanical Properties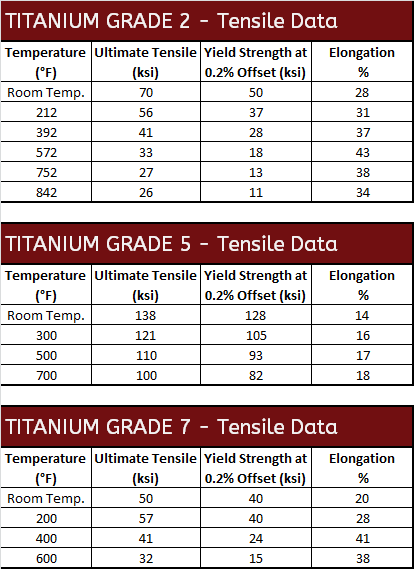 ---
Titanium's Resistance to Chlorine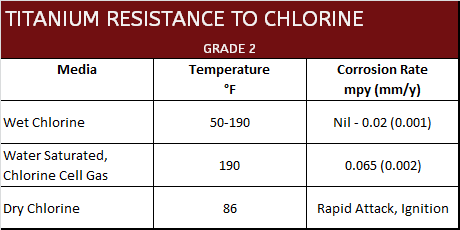 ---
Corrosion Data