An engineered stainless steel known for its high yield strength & decent corrosion resistance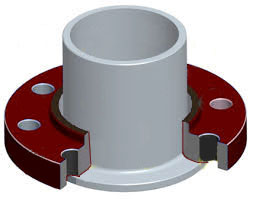 Duplex 2205 and Super Duplex 2507 stainless steel lap joint flanges are characterized by their high yield strength, which is twice that of the annealed yield strength of typical austenitic stainless steels, like 304 and 316 stainless steel lap joint flanges. Because of this, Duplex 2205 and Super Duplex 2507 steel are some of the most common grades of duplex used for lap joint flanges with Super Duplex 2507 lap joint flanges being the more corrosion resistant grade of the two.
Super Duplex 2507 lap joint flanges improved corrosion resistance lends itself well too applications prone to stress-corrosion cracking, crevice corrosion, pitting, erosion and general corrosion. Because of the properties of Duplex and Super Duplex stainless steel lap joint flanges are often used in chemical processing, petrochemicals, power industry and seawater equipment.
Usage of both Duplex and Super Duplex stainless steel should be limited to temperatures below 570° F as extended elevated temperature exposure can embrittle this material.
The most common grades of Duplex flanges are Duplex 2205 and Super Duplex 2507. Gain more insight on these two grades by accessing our Duplex 2205 and Super Duplex 2507 overviews or by contacting our engineering experts.
Resources: Duplex & Super Duplex Torque Specs, Flange Dimensions, Flange Bolting Chart
Flange Types Available: Blind Flanges, Lap Joint Flanges, Slip On Flanges, Socket Weld Flanges, Threaded Flanges, Weld Neck Flanges
---
Duplex Lap Joint Flange Grades, Chemistry & Specifications
Duplex Alloy 2205
Duplex 2205, UNS S32205, is a stainless steel material, whose "Duplex" name is derived from the mixed microstructure which contains roughly equal portions of ferrite and austenite. This grade is the most popular variety and this two-phase material is a significant upgrade from 316 stainless steel in terms of both yield strength and corrosion resistance.
Duplex 2205 Specifications: ASME SA 182, ASME SA 240, ASME SA 479, ASME SA 789, ASME SA 789 Section IV Code Case 2603, ASTM A 240, ASTM A 276 Condition A, ASTM A 276 Condition S, ASTM A 479, ASTM A 790, NACE MR0175/ISO 15156, NORSOK MDS D45 Grade F51, UNS S31803, UNS S32205, W. NR./EN 1.4462, Werkstoff 1.4462 Duplex

Super Duplex Alloy 2507
Super Duplex 2507, UNS S32750, is a two-phase stainless steel and is particularly well suited for use in environments such as warm chlorinated seawater and acidic, chloride containing media. It has similiar properties to Duplex 2205 but is more corrosion resistant and performs well in moderately corrosive environments.
Super Duplex 2507 Specifications: EN 10216-5, ASTM A789; A790, ASTM A182 ASTM A182, ASTM A815, ASTM A240, EN 10088-2, ASTM A479, EN 10088-3 EN 10088, ISO 15156-3, NACE MR0175, Werkstoff 1.4410 S.Duplex
Zeron 100 / F55:
Zeron 100, UNS 32760, is commonly know as F55, which is a slight varient of Super Duplex 2507. This alloy is well suited or seawater applications.
Zeron 100/F55 Specifications: ASTM A 182, ASTM A 182 (Grade F55), ASTM A 240, ASTM A 276, ASTM A 473, ASTM A 479, ASTM A 790, ASTM A 815, ASTM A314, NORSOK MDS 055, UNS S32760, W. Nr./EN 1.4501, Werkstoff 1.4501

---
Mechanical Data

---
Duplex & Super Duplex Lap Joint Flange Features & Benefits
Lap joint flanges are unique in that they are made of two pieces, the flange itself and the stub end.
Flange
The backside, has a slight shoulder that is square cut at the center or pipe hole
The front side has a flat face with a filleted (rounded) center hole to match the filleted back face of the stub end. Here the stub end will wrap tightly around the center hole of the flange.
Stub End
Shaped like a short piece of pipe with a weld bevel on one. This portion of the stub end is also called the sleeve.
Narrow shoulder on the flange facing end called is the hub. The back face of the hub has a rounded transition (or inside fillet) that joins the hub to the sleeve
Benefits
Economy
Because a lap joint flange has a two piece configuration, it offers a way to cut cost when piping systems requires
For high cost alloys the only "wetted" part is the stub end. In this situation, it is only required for the stub-end to be made of the higher cost corrosion-resistant material, where the flange itself can be the produced from lower cost steel.
Ease of Work
By using lap joint flanges, work can be simplified in situations that require frequent and rapid disassemble and assembly during the operation of a plant. The ability to spin that backing flange compensates for misalignment of the bolt holes during assembly.