Engineered stainless gaskets: 2x stronger yield than 316 stainless steel
JG/JP Gasket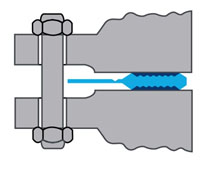 Parameters
Temp: Cryogenic to 1830

°

F / 1000°C

Pressure: Vacuum to 5800psi / 400bar

Pressure class: 1500 / PN400

Carrier metal: Stainless & Specialty alloys

Thickness: 0.098" to 0.394" (2.5 - 10mm)

Max dimension: 144in / 4000mm

Applications
Extreme pressure & temperatures

Corrosive media, H2, hazardous service

Replaces: Spiral Wound / Kammprofile

Advantages
Duplex Gasket Overview
Duplex 2205 and Super Duplex 2507 (UNS S32205 / UNS S32750) stainless steel gaskets are characterized by their high yield strength, which is twice that of annealed austenitic stainless steels, like 304 and 316. In addition, Duplex steels offer improved corrosion protection compared to 300 series stainless, especially in terms of localized corrosion such as crevice and pitting, as well as stress corrosion cracking. In general, Duplex steel gaskets are a great step up from 300 series stainless.
The main difference between the Duplex alloys is that 2507 offers higher strength and better corrosion resistance compared to Duplex 2205.
• Duplex 2205: Higher strength and corrosion resistance than 300 series stainless.
• Super Duplex 2507: Improved corrosion resistance and strength compared to 2205.
Duplex and Super Duplex semi-metalic gaskets with a PTFE or graphite soft sealing material are available in the Revoseal JG / JP design which is usable in the most corrosive environments and has a pressure rating of from vacuum to 5800psi / 400bar. WIth a leak rate 15000x less than spiral wound gaskets, you can be sure that hazardous fumes and vapors will be conatained creating the safest work environment possible. Furthermore, our Duplex 2205 and Super Duplex 2507 gaskets are customizable and accomodate dissimilar flange faces and large gaps.
Mechanical Properties
In general, Duplex gaskets have significantly better toughness and ductility than ferritic grades of steel, but not the levels of austenitic grades. Usage of both Duplex and Super Duplex stainless steel should be limited to temperatures below 570°F, as extended exposure to elevated temperatures can embrittle this material.

Key properties:
• High strength and fatigue resistance
• Good toughness & ductility
• Temperature usage limit: 570°F
• Low thermal expansion
Corrosion Resistance
Though Duplex steel gaskets are not ideal for harsh chemical environments, they do offer better corrosion resistance than 300 series stainless steel and are ideal for saltwater and chloride applications. Duplex bolts offer resistance to:
• Saltwater: salt air, brackish water and marine environments.
• Localized chloride corrosion: pitting and crevice corrosion as well as stress corrosion cracking.
• Sulfide stress corrosion resistance
• Oxidation
Which Duplex Steel is Best for Your Application?
The most common grades of Duplex steel gaskets are Duplex 2205 (1.4462) and Super Duplex 2507 (1.4410). If you are still not sure, our engineering team is here to offer their expertise on which grade will meet the specific requirements of your application.
---
Duplex Steel Gasket Availability
Custom Availability
Various Duplex grades and gasket designs can be made to order with standard lead time to be approximately 4 weeks. Be sure to contact us for specific lead times and any expediting needs.
Duplex 2205 and Super Duplex 2507
Max dimension: 144in / 4000mm
Custom to print available
NACE MR0175, ASTM, ASME, DFAR and Domestic available
Expediting Options
Let us know if you have lead time requirements that require a rush order so that we can accommodate them.
---
Common Duplex Grades
Duplex Alloy 2205 (1.4462)
Duplex 2205, UNS S32205, is a stainless steel material, whose "Duplex" name is derived from the mixed microstructure which contains roughly equal portions of ferrite and austenite. This grade is the most popular variety and this two-phase material is a significant upgrade from 316 stainless steel in terms of both yield strength and corrosion resistance. Click here for more in-depth information on Duplex 2205.
DUPLEX 2205 SPECIFICATIONS: ASME SA 182, ASME SA 240, ASME SA 479, ASME SA 789, ASME SA 789 Section IV Code Case 2603, ASTM A 240, ASTM A 276 Condition A, ASTM A 276 Condition S, ASTM A 479, ASTM A 790, NACE MR0175/ISO 15156, NORSOK MDS D45 Grade F51, UNS S31803, UNS S32205, W. NR./EN 1.4462, Werkstoff 1.4462 Duplex

---
Super Duplex Alloy 2507 (1.4410)
Super Duplex 2507, UNS S32750, is a two-phase stainless steel and is particularly well suited for use in environments such as warm chlorinated seawater and acidic, chloride containing media. It has similiar properties to Duplex 2205 but is more corrosion resistant and performs well in moderately corrosive environments. Click here for more in-depth information on Super Duplex 2507.
SUPER DUPLEX 2507 SPECIFICATIONS: EN 10216-5, ASTM A789; A790, ASTM A182 ASTM A182, ASTM A815, ASTM A240, EN 10088-2, ASTM A479, EN 10088-3 EN 10088, ISO 15156-3, NACE MR0175, Werkstoff 1.4410 S.Duplex
---

---