An extremely strong precipitation hardened stainless steel
17-4 PH socket weld flanges are made from a precipitation hardened stainless steel most known for its exceptional strength and its ability to maintain its mechanical properties to 600°F. Compared to 316 stainless steel, 17-4 PH socket weld flanges yield strength is up over 4 times greater. When compared to Duplex 2205 socket weld flanges, the yield strength of 17-4 PH can be up to 2-½ times greater.
17-4 socket weld flanges are available in 8 different aged (precipitation hardened) conditions offering a variety of mechanical properties (see below).
Resources: 17-4PH Torque Specs, Flange Dimensions, Flange Bolting Chart
Flange Types Available: Blind Flanges, Lap Joint Flanges, Slip On Flanges, Socket Weld Flanges, Threaded Flanges, Weld Neck Flanges
---
17-4PH Chemistry & Specifications
17-4PH Specifications: UNS S17400, AISI 630, ASTM A564-630, AMS 5604 Sheet, Strip and Plate, ASTM A 693 Plate, Werkstoff 1.4542

---
Common 17-4 Socket Weld Flanges: Aged Conditions vs Tensile Strength
---
Socket Weld Flange Features & Benefits
Similar to a slip on flange, an 17-4PH socket weld flange has an added shoulder inside the bore hole. The socket weld flange is designed so that a pipe can be inserted into the socket of the flange until it hits the shoulder of the socket. The pipe is then backed away from the shoulder approximately 1/16 inches before being welded to the flange hub. This internal weld provides this type of flange added strength. In addition, by grinding the internal weld smooth, turbulence and flow restriction are minimized. 17-4PH socket weld flanges are most commonly used on small diameter applications (1/2" through 4") and high pressure piping systems.
Socket Weld Flange Benefits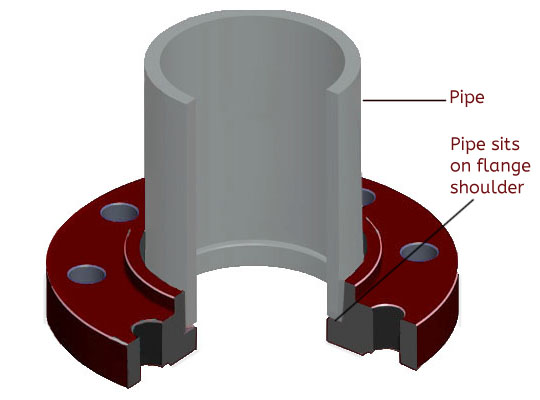 Best for small size, high pressure applications
Static strength equal to a slip on flange yet boasts a fatigue strength 1.5 times that of the slip on design
Employs both a backside hub weld and an internal shoulder weld for increased strength
Socket weld flanges delivers a lower risk of leakage than threaded flanges
Socket weld pipes do not have to be beveled for weld preparation
Butt-welded joints are easily fitted and no special machining
Socket Weld Flange Disadvantages
The expansion gap and internal crevices left in socket welded systems can promote crevice corrosion.
Socket weld flanges have two welds which makes them stronger yet more labor intensive to install. Due to the increased welding, it has become the practice to weld only at the hub of the flange, which is not recommended.
Installation Tips
The socket weld pipe fittings should allow for expansion gap of 1/16 inch (1.6 mm) between pipe and the shoulder of the socket.