A semi-metalic nickel alloy gasket used for severe corrosion environments
JG/JP Gasket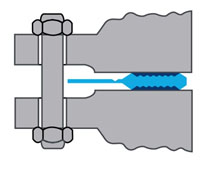 Parameters
Temp: Cryogenic to 1830

°

F / 1000°C

Pressure: Vacuum to 5800psi / 400bar

Pressure class: 1500 / PN400

Carrier metal: Stainless & Specialty alloys

Thickness: 0.098" to 0.394" (2.5 - 10mm)

Max dimension: 144in / 4000mm

Applications
Extreme pressure & temperatures

Corrosive media, H2, hazardous service

Replaces: Spiral Wound / Kammprofile

Advantages
Hastelloy Gasket Overview
Hastelloy gaskets are ideally suited for a wide variety of medium to severe corrosive acid environments. The most common grade for Hastelloy gaskets is Hastelloy C276 (2.4819), which is the one of the most versatile of the corrosion resistant nickel alloys – exceeding that of Inconel or Monel. Hastelloy gaskets are also available in other specialty grades that can address more niche corrosion issues. Hastelloy is often used for applications involving:
Sulfuric and hydrochloric acid (H2SO4 & HCl)
Chlorides, wet chloride gas and chlorine solutions
Solvents
Formic and acetic acids
Hypochlorites
Phosphoric acid
Hastelloy semi-metalic gaskets with a PTFE or graphite soft sealing material are available in the Revoseal JG / JP design which is usable in the most corrosive environments and has a pressure rating of from vacuum to 5800psi / 400bar. WIth a leak rate 15000x less than spiral wound gaskets, you can be sure that hazardous fumes and vapors will be conatained creating the safest work environment possible. Furthermore, our Hastelloy gaskets are customizable and accomodate dissimilar flange faces and large gaps.
Because Hastelloy gaskets are resistant to some of the most severe chemicals, this very material often finds use in oil & gas sour gas service, chemical processing, power industries flue gas desulfurization systems, off-shore oil and down hole environments, pulp & paper bleaching and digesters, as well as other industrial facets where corrosion is an issue.
---
Hastelloy Gasket Availability
Custom Availability
Various Hastelloy grades and gasket designs can be made to order with standard lead time to be approximately 4 weeks. Be sure to contact us for specific lead times and any expediting needs.
Max dimension: 144in / 4000mm
Custom to print available
NACE MR0175, ASTM, ASME, DFAR and Domestic available
Expediting Options
Lead Time is important? You have down equipment? No problem. Just let us know what you need and we will do our very best to accommodate.

---
Common Hastelloy Gasket Grades
Confused about which grade of Hastelloy is best for your corrosive application? Read this short blog post which gives an overview of each grade's strength. If you need more in-depth direction or contact our engineering team for expert guidance.
HASTELLOY C276 (2.4819)
Hastelloy C276 alloy, UNS N10276, is the most widely used and versatile corrosion resistant nickel alloy. Hastelloy gaskets offer very good resistance to strong reducing and moderately oxidizing corrosive acids, as well excellent stress corrosion cracking resistance and resistance to localized attack. Outstanding corrosion resistance to various concentrated, hot acids and reducing environments, C276 gaskets are readily used in hot sulfuric and hydrochloric acid applications. Hastelloy's resistance to sulfuric acid makes it a common choice for protection from hydrogen sulfide (H2S), more commonly known as sour gas. In addition, Hastelloy C276 is one of the few grades resistant to wet chloride gas and chlorine dioxide. The Hastelloy C276 grade also offers excellent mechanical properties at elevated temperatures up to 1500°F / 815°C, making it ideal for hot corrosive environments. Because of these properties, Hastelloy C276 gaskets have resistance to a wide range of acids, chlorides, and strong halides which is why they are often utilized in the chemical processing and the oil & gas industries. The only factor that is critical to point out when dealing with very strong oxidizing environments like nitric acid is that Hastelloy C276 gaskets can be attacked as it has a low chromium content compared to other grades like Hastelloy C22. For more indepth material information, download our Hastelloy C276 Datasheet.
C276 Corrison Data & Iso-Corrosion Curves
• Hydrochloric Acid
• Nickel Alloy Corrosion Comparison Chart
• Nitric Acid
• Sulfuric Acid
HASTELLOY C276 SPECIFICATIONS: N10276, ASTM B574, ASME SB574, Werkstoff 2.4819, ASTM G28-A/B, ASME B18.2.2, ASTM B619, ASME SB619, ASTM B366, ASME SB366, WPHC276, ASME B16.11, ASTM B564/ASME SB564, COLD DRAWN, HOT FINISHED, ASTM B575, ASME SB575, COLD ROLLED, HOT ROLLED, ASME B16.9, ASME B16.5, ASTM B462, ASME SB462, ASTM F467 (Nuts), ASTM F468 (screws, bolts, studs)


---
HASTELLOY C22 (2.4602)
Hastelloy C22 alloy, UNS N06022, has better overall corrosion resistance in oxidizing corrosives than C-276 and Inconel 625 alloys due to the higher chromium content. More specifically, C22 gaskets provides better protection when used in certain saturated wet chlorine environments. In addition, its high chromium content provides C22 gaskets much better resistance to oxidizing media that C276. This provides it exceptional resistance to chloride-induced pitting although, in most cases because of its availability, C-276 gaskets are a more cost-effective option. Hastelloy C22 gaskets also offer outstanding resistance to pitting and crevice corrosion, as well as stress corrosion cracking. Use of C22 gaskets should be limited to temperatures below 1250° F.
C22 Corrison Data & Iso-Corrosion Curves
• Hydrochloric Acid
• Nitric Acid
• Nickel Alloy Corrosion Comparison Chart
• Phosphoric Acid
• Sulfuric Acid
HASTELLOY C22 SPECIFICATIONS: SB 575/B 575, SB 574/B 574, SB 366/B 366 SB 462/B 462, SB 564/B 564 SB 462/B 462, Werkstoff 2.4602, 17744 No. 2.4602 NiCr21Mo14W, NACE MR0175 ISO 15156

---
MECHANICAL PROPERTIES OF HASTELLOY
---
Hastelloy Corrosion Data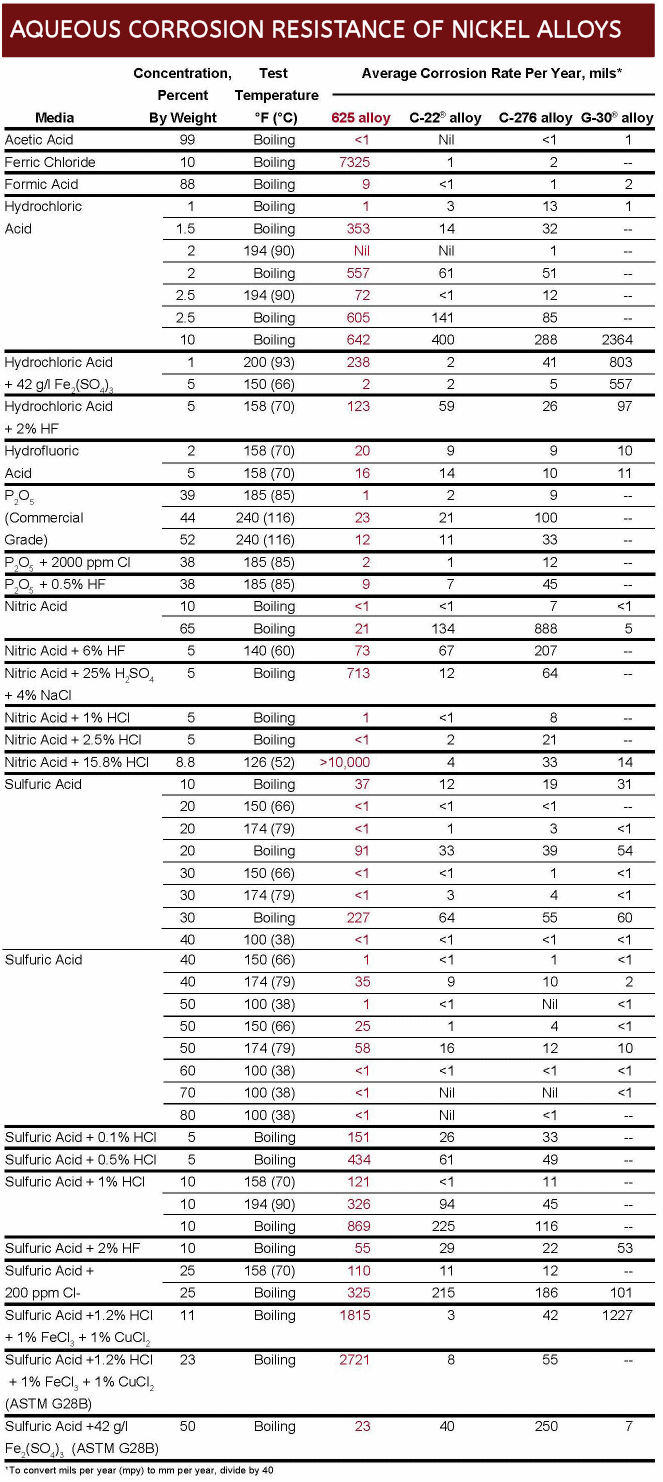 ---
Hastelloy C276 Iso-Corrosion Curves for HCl & H2SO4


---