A Ni-Cr alloy gasket known for its high temperature stability
JG/JP Gasket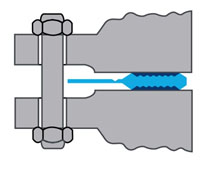 Parameters
Temp: Cryogenic to 1830

°

F / 1000°C

Pressure: Vacuum to 5800psi / 400bar

Pressure class: 1500 / PN400

Carrier metal: Stainless & Specialty alloys

Thickness: 0.098" to 0.394" (2.5 - 10mm)

Max dimension: 144in / 4000mm

Applications
Extreme pressure & temperatures

Corrosive media, H2, hazardous service

Replaces: Spiral Wound / Kammprofile

Advantages
Inconel Gasket Overview
Inconel® gaskets, like Inconel 600, 601 & 625 gaskets, are a family of nickel-chromium-molybdenum alloys used for their high strength at elevated temperatures and good corrosion resistance. Because of its high thermal stability, Inconel can be used in service temperatures ranging from cryogenic to 1830°F (1000°C). The high alloy content of Inconel gaskets enable it to withstand a wide variety of severe corrosive environments. In mild environments, such as the atmosphere, sea water, neutral salts, and alkaline media, there is almost no attack to Inconel gaskets. In more severe corrosive environments the combination of nickel and chromium provides resistance to oxidizing chemicals, whereas the high nickel and molybdenum contents supply resistance to nonoxidizing environments.
Inconel semi-metalic gaskets with a PTFE or graphite soft sealing material are available in the Revoseal JG / JP design which is usable in the most corrosive environments and has a pressure rating of from vacuum to 5800psi / 400bar. WIth a leak rate 15000x less than spiral wound gaskets, you can be sure that hazardous fumes and vapors will be conatained creating the safest work environment possible. Furthermore, our Inconel gaskets are customizable and accomodate dissimilar flange faces and large gaps.
Because Inconel gaskets offer a good balance of corrosion resistance, temperature stability, toughness and strength they are often a material of choice for chemical processing, aerospace, marine, electronics and oil & gas.
---
Inconel Gasket Availability
Custom Availability
Inconel gaskets can be made to order in both standard and custom designed gaskets with normal lead time of approximately 4 weeks. Be sure to contact us for specific lead times and any expediting needs.
Available in Inconel 600, 601 and 625
Max dimension: 144in / 4000mm
Custom to print available
NACE MR0175, ASTM, ASME, DFAR and Domestic available
Expediting Options
Lead Time is important? You have down equipment? No problem. Just let us know what you need and we will do our very best to accommodate.
---
Inconel Gasket Grades
Inconel 600
Alloy 600, UNS N06600, is a nickel-chromium alloy with good carburization and oxidation resistance through 2000°F. The alloy has long been used in the heat treating industry and Inconel 600 has useful resistance to dry Cl2 and HCl gases at moderately elevated temperatures.
Inconel 600 Specifications: AMS 5540, AMS 5665, ASME SB 166, ASME SB 167, ASME SB 168, ASTM B 166, ASTM B 167, ASTM B 168, EN 2.4816, UNS N06600, Werkstoff 2.4816, ASTM F2281

Inconel 601
Inconel 601, UNS N06601, is highly resistant to oxidation through 2200°F even under severe thermal cycling. The alloy has good high temperature strength, and retains its ductility after long service exposure. Inconel 601 alloy has good hot corrosion resistance under oxidizing conditions.
Inconel 601 Specifications: AMS 5715, AMS 5870, ASME SB 167, ASME SB 168, ASTM B 167, ASTM B 168, EN 2.4851, UNS N06601, Werkstoff 2.4851, ASTM F2281

Inconel 625
Inconel 625, UNS N06625, is the workhorse of the Inconel family and is one of the most common grades. It exhibits high creep-rupture strength and is oxidation resistant to 1800°F (982°C). Inconel 625 has excellent resistance to hot seawater, scrubber environments and reducing acids and this alloy resists a wide range of severely corrosive environments and is especially resistant to pitting and crevice corrosion. For more indepth information, download our Inconel 625 datasheet.
Inconel 625 Specifications: AMS 5666, AMS 5837, ASME SB 443 Gr 1, ASME SB 446 Gr 1, ASTM B 443 Gr 1, ASTM B 446 Gr 1, EN 2.4856, ISO 15156-3, NACE MR0175-3, UNS N06625, Werkstoff 2.4856, ASTM F467 (Nuts), ASTM F468 (Bolts, Screws, Studs)
---
Mechanical Data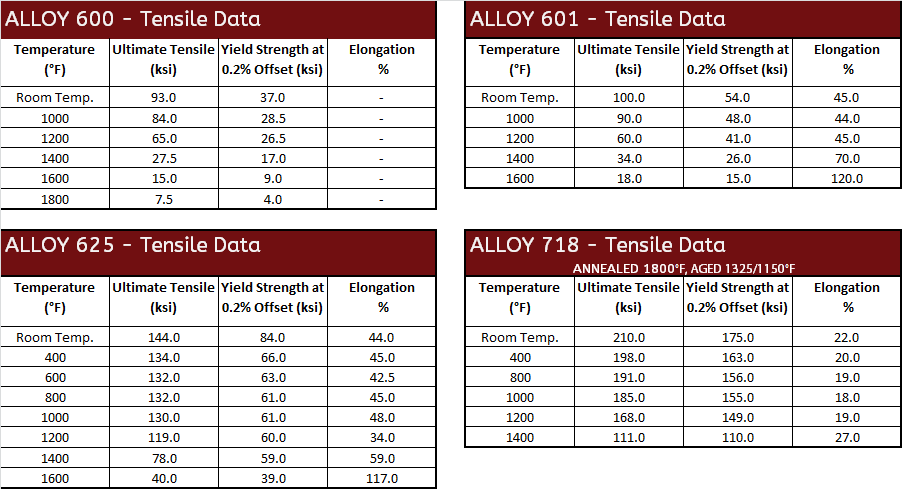 Inconel Corrosion Data