A Ni-Cr alloy gasket with very good high temperature stability
JG/JP Gasket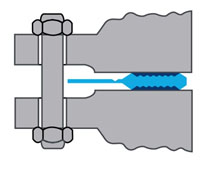 Parameters
Temp: Cryogenic to 1830

°

F / 1000°C

Pressure: Vacuum to 5800psi / 400bar

Pressure class: 1500 / PN400

Carrier metal: Stainless & Specialty alloys

Thickness: 0.098" to 0.394" (2.5 - 10mm)

Max dimension: 144in / 4000mm

Applications
Extreme pressure & temperatures

Corrosive media, H2, hazardous service

Replaces: Spiral Wound / Kammprofile

Advantages
Overview of Incoloy Gaskets
Not to be confused with Inconel, Incoloy gaskets are made of a nickel alloy which contains iron and a lower content of nickel. Incoloy is essentially a more economical option to Inconel, yet with more restricted corrosion resistance and temperature limits. Typically, Incoloy is an ideal material for long-term exposure in high temperature environments due to its oxidation, carburization and creep resistance. Incoloy is widely used for its resistance to seawater, brine, sour gas and high chloride environments at elevated temperatures, which make it a popular choice in the oil and gas and power industries.
Incoloy semi-metalic gaskets with a PTFE or graphite soft sealing material are available in the Revoseal JG / JP design which is usable in the most corrosive environments and has a pressure rating of from vacuum to 5800psi / 400bar. With a leak rate 15000x less than spiral wound gaskets, you can be sure that hazardous fumes and vapors will be conatained creating the safest work environment possible. Furthermore, our Incoloy gaskets are customizable and accomodate dissimilar flange faces and large gaps.
The most commonly used grades of Incoloy gaskets are Incoloy 800, 800H, 800HT; and Incoloy 825. For more indepth information on these specific grades, visit our specific web pages or contact one of our engineering experts:
Datasheets: Incoloy 800, 800H 800HT; Incoloy 825
---
Incoloy Gasket Availability
Custom Availability
Incoloy 800 and 825 gaskets are made to order in both standard and custom designs. The normal lead time for Incoloy gaskets is approximately 4 weeks. Be sure to contact us for specific lead times and any expediting needs.
Available in Icoloy 800 and 825
Max dimension: 144in / 4000mm
Custom to print available
NACE MR0175, ASTM, ASME, DFAR and Domestic available
Expediting Options
Lead Time is important? You have down equipment? No problem. Just let us know what you need and we will do our very best to accommodate.
---
Common Incoloy Chemistry, Grades & Specifications
Incoloy 800, 800H, 800HT
Incoloy 800 series gaskets are best utilized for applications that require stable structure and good strength during prolonged exposure to high temperatures. Learn more by downloading out Incoloy 800 datasheet.
Incoloy 800, 800H & 800HT Specifications: UNS N08800/ N08810 / N08811 (800, 800H, 800HT), ASTM B408, ASME SB408, ASTM B564/ASME SB564, EN 10204-3.1, Werkstoff 1.4876 (800), Werkstoff 1.4876 H and 1.4958 (800H), Werkstoff 1.4876 HT and 1.4959 (800HT)
Incoloy 825
Related to the Incoloy 800 series alloys, Incoloy 825 differentiates itself with the additional elements of molybdenum and copper, which provides it improved corrosion resistance. Learn more by downloading out Incoloy 825 datasheet.
Incoloy 825 Specifications: UNS N08825, , BS 3076NA16, ASTM B 425, ASTM B 564, ASME SB 425, ASME SB 564, ASME Code Case N-572, DIN 17752, DIN 17753, DIN 17754, VdTÜV 432, ISO 9723, ISO 9724, ISO 9725, Werkstoff Nr 2.4858

---
Mechanical Properties of Incoloy