A Fe-Ni-Cr alloy with excellent high temperature oxidation resistance
A-286 socket weld flanges are known for their high strength, creep resistance and oxidation resistance at elevated temperatures. This iron-nickel-chromium alloy (once age-hardened) provides A-286 socket weld flanges with high levels of strength from room temperature up to about 1300°F (700°C).
A-286 socket weld flanges are mildly corrosion resistant. While they should not be used for strong acid environments, they provide excellent oxidation resistance up to 1300°F (700°C) in conditions that would typically be found in high temperature exhaust streams.
Because of these properties, A-286 socket weld flanges are often found in high temperature engine, manifold, exhaust and turbine applications as well as off-shore oil & gas applications.
Resources: A-286 Torque Specs, Flange Dimensions, Flange Bolting Chart
Flange Types Available: Blind Flanges, Lap Joint Flanges, Slip On Flanges, Socket Weld Flanges, Threaded Flanges, Weld Neck Flanges
---
A-286 Chemistry, Specifications & Heat Treatments
A-286 Heat Treatments: There are several heat treatment combinations for A-286 all with slight variations in performance. They can be specified via an AMS number or a 660 Class: A, B, C or D, with most common specified as class A or D. The A-286 grades A, B and C all have the same min tensile strength and min yield strength of 130ksi and 85ksi respectively. However grade D is significantly better yield with a min tensile of 130ksi and a min yield of 105ksi.
By AMS numbers, the most common for A-286 is AMS 5737 (same as Grade A) and then AMS 5732 (same as Grade B).
A-286 Specifications: AMS 5525, AMS 5732, AMS 5737, AMS 5804, EN 1.4980, GE B50T1181, GE B50T12, GE B50T81, UNS S66286, Werkstoff 1.4980

---
Mechanical Properties
---
Socket Weld Flange Features & Benefits
Similar to a slip on flange, an A286 socket weld flange has an added shoulder inside the bore hole. The socket weld flange is designed so that a pipe can be inserted into the socket of the flange until it hits the shoulder of the socket. The pipe is then backed away from the shoulder approximately 1/16 inches before being welded to the flange hub. This internal weld provides this type of flange added strength. In addition, by grinding the internal weld smooth, turbulence and flow restriction are minimized. A286 socket weld flanges are most commonly used on small diameter applications (1/2" through 4") and high pressure piping systems.
Socket Weld Flange Benefits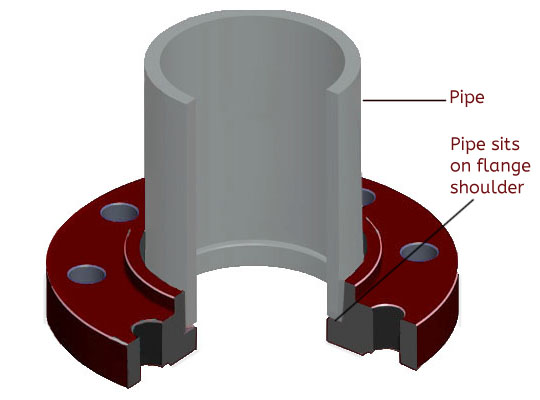 Best for small size, high pressure applications
Static strength equal to a slip on flange yet boasts a fatigue strength 1.5 times that of the slip on design
Employs both a backside hub weld and an internal shoulder weld for increased strength
Socket weld flanges delivers a lower risk of leakage than threaded flanges
Socket weld pipes do not have to be beveled for weld preparation
Butt-welded joints are easily fitted and no special machining
Socket Weld Flange Disadvantages
The expansion gap and internal crevices left in socket welded systems can promote crevice corrosion.
Socket weld flanges have two welds which makes them stronger yet more labor intensive to install. Due to the increased welding, it has become the practice to weld only at the hub of the flange, which is not recommended.
Installation Tips
The socket weld pipe fittings should allow for expansion gap of 1/16 inch (1.6 mm) between pipe and the shoulder of the socket.